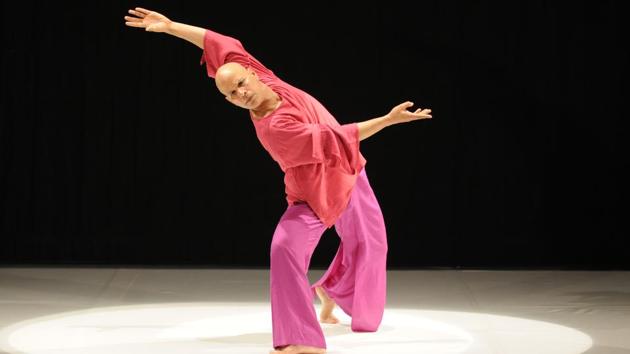 Meet this dancer who is fighting for the art form's social esteem, one move at a time
Jayachadran Palazhy, artistic director, Attakkalari Dance Company, has helped many young dancers coming from humble backgrounds become successful dancers, choreographers and teachers. Palazhy adds, "There were a few institutions set up for classical dance forms to protect it from disappearance, which was also a political project of sorts. However, there was no institutional or financial support for contemporary expressions in dance and it was not part of the vision for dance in India for the government. The development as well as social esteem of dance suffered as a result."
Hindustan Times, Pune | By Anjali Shetty
UPDATED ON MAY 20, 2018 04:23 PM IST
The choice of dance as a profession was not easy, says Jayachandran Palazhy, artistic director at Attakkalari Dance Company, who conducted workshops and auditions at Max Mueller Bhavan recently, to select students for the two-year diploma programme at the institute. .
Palazhy feels lucky and grateful to have had some of the best teachers in dance, martial arts and allied fields, who taught him the essence and history of dance and movement arts, the need to adhere to quality and the importance of perseverance and hard work in achieving any goal that one holds dear to one's heart.
"The choice of dance as a profession was not easy in the early years of my career and the journey was often met with challenges. In a way, I feel privileged to have had friends from different disciplines, as they were generous in offering their time and energy to help me navigate, while I was trying to set up Attakkalari Centre for Movement Arts," says Palazhy.
He often tells students that dance must discover them rather than they discovering dance. This is true in his case as well. "When I was a child of seven or eight, I used to stand in front of the mirror and imitate the dances that I had seen in the temples or the youth festivals or in my school functions. What is the reason behind my attraction to dance is something I did not know. It felt like an inner urge to move and make shapes with one's body, even as a child. It is as if these shapes and moves, somehow awakened one's soul and spirit, gave one a feel of being in touch with something out of the ordinary. Dance gives you this sense of coming alive fully by being in touch with your body, mind and spirit simultaneously."
Dance as a professional career
Around 300 years of colonial rule has inhibited and constrained the development of many dance forms, martial art traditions and other body care systems in India. Before that, dance was considered a gifted art form and was respected in temple functions, religious occasions and the royal courts. After the Independence, the journey to develop a professional support system for dance was fraught with difficulties.
Palazhy adds, "There were a few institutions set up for classical dance forms to protect it from disappearance, which was also a political project of sorts. However, there was no institutional or financial support for contemporary expressions in dance and it was not part of the vision for dance in India for the government. The development as well as social esteem of dance suffered as a result."
When Palazhy started Attakkalari, he did not have money and used to travel on bicycles for rehearsals and he even cooked meals for the dancers. However, all along, one principle stood; artists will be paid. "In the beginning, I had to put my own money, but this was important in establishing a professional approach to dance. Since then, over time, dance has become an economically viable career option. Today, dance artists trained at Attakkalari are in much demand, both nationally and internationally. Now, there is a big demand from schools, colleges, other institutions and corporate houses for choreographers and dance teachers trained at Attakkalari. This is indeed a welcome trend."
However, he hopes younger generation will give themselves sufficient amount of focused time to train in dance, other somatic forms and allied subjects, so that they can embody the sophisticated and nuanced knowledge and wisdom that the discipline has to offer. "I hope as a society, we will desist from running after the madness of quick fix entertainment culture that will cut short the attention span and ability to reflect, but instead invest in artistic endeavours that are meaningful for our lives and will have resonance with a better future that we could aspire for."
Importance of theoretical knowledge
To go ahead in any field, one needs to have a sense of history, at least of that form and the context in which it operates. The history of viewing helps one to understand what had gone on before and prepare oneself for the future journeys. One also has to understand the salient theories, concepts and principles that govern one's chosen discipline and its allied fields, so that one can meaningfully work in the domain.
Palazhy adds, "As a part of Attakkalari's national diploma in movement arts and mixed media subjects, topics such as theories of arts and aesthetics, history of art and stage technologies, are taught along with several Indian and international somatic technique classes, fitness, body conditioning and choreography. This helps the students have a broader understanding about the vocabulary, structure, grammar, syntax and dramaturgy of a production and conceive their own choreographies as well."
Today, research in neuroscience has discovered that dance helps increased cognition and memory. According to Antonio Damasio, neuroscientist, "Learning and creating memories are simply the process of chiselling, modelling, shaping, doing, and redoing our individual brain wiring diagrams."
Motor activity of the body triggers the firing of neurons and connecting them, leading to new neural channels. Repetition of a movement sequence can lead to mapping them in the brain, which in common parlance, is often referred to as muscle memory.
For the learning of a new skill to take place, the body needs to be relaxed. Coordinated intricate movements of dance can be executed best when you are able to relax your body and breath easily so that muscle tensions do not inhibit your movement or learning. This relaxed state is an ideal condition for our brain to learn new skills. Through practice, a dancer develops a heightened sense of awareness of each and every part of the body, both in physical as well as temporal spaces, while in dynamic motion, which is referred to as 'proprioception'.
"Through my work at Attakkalari, I try to bring about a set of ideas about body and movement which allows an oscillation between the empirical space and the space defined by the performer. Judicial application of the concepts of body and principles of movements embedded in Indian physical and performance traditions in the Attakkalari vocabulary is a crucial element for its unique quality. For a thinking dance artist, sound theoretical knowledge in dance and allied art forms is very important to get ahead in his/her career," adds Palazhy.
Close