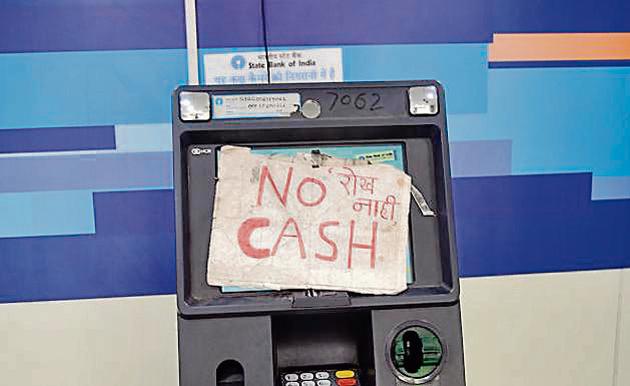 Most ATMs in Pune city run dry
People were left with no option but to visit various ATM centres hoping to withdraw money.
UPDATED ON MAY 07, 2018 02:55 PM IST
Even after a fortnight, the currency crunch in the city has not abated amid slight increase in ₹200 denomination notes.
While some of the ATMs had cash crunch, some had limited cash denominations to offer. People were left with no option but to visit various ATM centres hoping to withdraw money.
Ramesh Jakhade, a senior citizen said,"On Friday, I visited as many as 10 ATMs in Wakad area to withdraw cash. I am not comfortable doing online transactions and hence I am facing lot of inconvenience."
"Your ATMs are running dry in Pimple Saudagar and Wakad areas In Pune.What's the fuss? Huge queues seen outside ATMs.Is cash crunch back?," asked Manoj Mehata as he tagged the twitter handles of HDFC Bank.In a reply, HDFC bank asked for address details to sort out issue.
Manoj Jaiswal,a resident of Camp area told to Hindustan Times that he has been facing cash crunch for the last 2 weeks."We are expecting the situation to become normal soon," he said.
Milind Kale, chairman of The Cosmos Co-operative Bank Ltd said,"Many banks are dependent on other banks for currency and hence might be facing a crunch. As far as Cosmos bank is concerned, we have our own currency chest and so we are not facing currency crunch. All our ATMs have adequate cash."
Senior officials from Bank Of Maharashtra on condition of anonymity said,"Yes we have received many complaints regarding ATMs running out of cash.This is a temporary phenomenon.We expect the situation to be normalised by next week."
People who prefer to buy from street vendors at Laxmi Road and Deccan are finding it difficult as street vendors do not have facility of paying by debit/credit cards.
Canara Bank ATM near SP college, Sadashiv Peth's Syndicate Bank ATM and SBI Bank ATM also had no cash. Many bank ATMs had the message on their doors which said that the machine was not working. People were returning empty-handed after visiting various ATMs.
Close