My City My Voice: Hadapsar housing society residents wading through severe sewage issues
Updated on Sep 22, 2017 11:46 PM IST
Concerned residents of Hadapsar raise their voice against poor upkeep of the area's drainage system.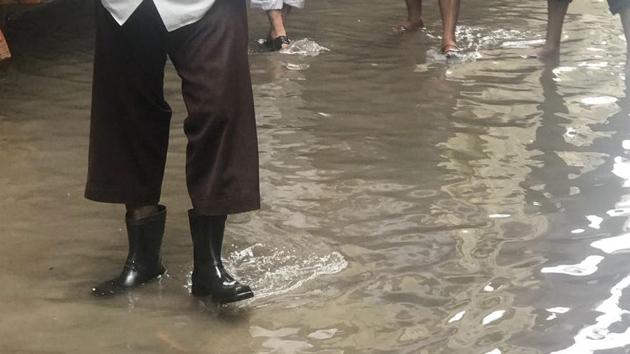 The choked drainage line of the Pune Municipal Corporation in Hadapsar area has been causing inconvenience to many housing societies in the locality. Residents of the area, especially those of Amar Deep Society, have complained that they are facing a drainage problem as water has been stagnating in the housing society for over four days now.
Despite several requests from the residents, the municipal corporation has not been able to help them, as a result of which, citizens are now complaining of stinking drainage water.
Amar Vihar Society members, RI Siyyad and Balasaheb Mane, said that they had requested the Hadapsar ward office to repair the drainage line and drain out the water. However, their efforts did not bear fruit.
Mane said that the residents even contacted the local elected member Yogesh Sasane, but any sort of help is yet to come. As the municipal corporation did not help, the residents, on Friday, hired a water pump and removed the stagnated drainage water from their housing society.
When contacted, Sasane also blamed the municipal administration for the lack of action. He said that he had also personally called the ward office, but they said that they did not have any facility to pump the water out from these housing societies. Even the fire brigade department said that they did not have any such suction machine to clear the water, he added.
Sasane said that he had personally visited the housing society and had seen the plight of the residents, who had to wade through six to seven inches of water in the parking area. The society has 40 flats and entire parking area has been flooded with the drainage water.
Mane said, "It's a very frustrating experience for them to follow up with the municipal administration for the removal of the drainage water. It was stinking as it has been in the parking area for four days. It was also difficult for kids to move out of their home as they had to wash their feet every time they go out. The local corporator tried to help, but his efforts were also not fruitful. "
Sasane added that the municipal administration has started the drainage line repairing work to remove the filth. With a nullah passing nearby, the adjacent society had also faced a similar problem, but they released the water into a garden adjacent to their society."