PCMC initiates appointment of contractor to clean hyacinth in rivers
Updated on Oct 02, 2018 04:53 PM IST
Every year, PCMC witnesses uncontrolled growth of hyacinth specifically during summers in Mula, Indrayani and Pavana rivers which pass through its territory.This has often led to a rise in mosquitoes in the nearby areas.To curb this menace, PCMC floated tenders to weed out water hyacinths from all three rivers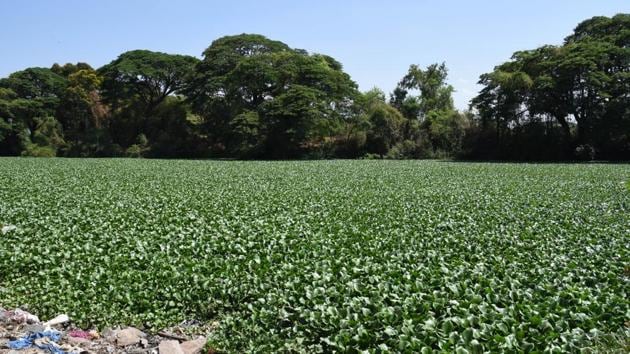 Hindustan Times, Pune |
, Pune
Shrinivas Deshpande
In a bid to keep the Mula, Indrayani and Pavana rivers water hyacinth free, the Pimpri Chinchwad municipal corporation (PCMC) has floated tenders worth ₹92 lakh for cleaning the rivers for the duration of eight months.
"We have initiated the tendering process to keep our rivers water hyacinth free throughout the year. The contractor should clean all three rivers flowing through the city for a period of eight months. After scrutinising the bids, contractor will be appointed on October 17," Sanjay Kulkarni, environment engineer, PCMC.
Every year, PCMC witnesses uncontrolled growth of hyacinth specifically during summers in Mula, Indrayani and Pavana rivers which pass through its territory.This has often led to a rise in mosquitoes in the nearby areas.To curb this menace, PCMC floated tenders to weed out water hyacinths from all three rivers.
PCMC floated a tender for the cleaning of 24 km stretch of Pavana river,16 km of Indrayani river and 4 km of Mula river.
Earlier this year, after the failure of the contractor to remove water hyacinth from rivers, PCMC commissioner Shravan Hardikar decided not to appoint any contractor to clean rivers in the future. He decided to take help from various non-governmental organisations to keep the river hyacinth-free. However on Sunday, PCMC initiated the tending process.
Last year, PCMC had appointed Sai Fright, a private firm to remove water hyacinths. They were paid ₹4.5 lakh to clean Pavana river; ₹4.5 lakh to clean Mula river and ₹9 lakh to clean Indrayani river for one year.
Personalise your news feed. Follow trending topics