#sayyestohelmets: Pune's accident survivors now turn campaigners for the cause
Published on Nov 21, 2018 03:33 PM IST
Pramod Mohite and Abhijit More share their life's experiences and lessons learnt, for the benefit of others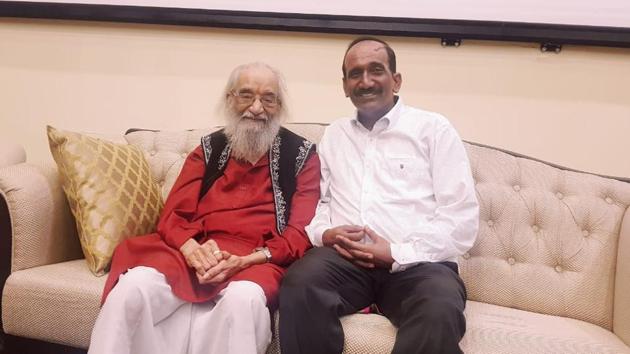 Hindustan Times, Pune |
Nozia Sayyed
Wearing of helmets while riding two-wheelers in Pune city is mandatory from January 1, 2018 and accident survivors are turning active campaigners for helmet usage.
Pramod Mohite, 51, from Sinhagad road, who fell off his bike, suffered a severe brain injury. Mohite could hardly recollect his accident history.
"The accident happened eight years ago. It was in the evening when my bike skid. I was going to meet my friends and unfortunately met with an accident. I was admitted to Deenanath Mangeshkar hospital for four months after I suffered a head injury. I underwent surgery four times. My wife, children and parents were all dependent on me and the accident left me in a state of shock. This accident happened because I was not wearing a helmet. Had I worn it, many difficulties could have been avoided,, " said Mohite.
Mohite said that the accident had left him with a lifelong disability and dependency. "I have been asked to consume one medicine for all my life so that the blood flow to my brain is regular and my brain remains active. If I miss my medicine even for a day, I suffer from fits and become unconscious," said Mohite.
His personal experience has prompted Mohite to promote helmets usage.
Abhijit More, 30, also has a similar story to share. More fell off his bike while riding near the SNDT chowk. He was hit by a four-wheeler and suffered a head injury. He was bed ridden for two months and had to undergo two operations to get back on feet.
"I suffered a brain injury. The accident took place three years ago and I was rushed to Deenanath mangeshkar hospital. I do not remember much about the accident. The accident was so bad that I could have lost my life. I was not wearing a helmet on that fateful day. So, I support helmet usage while riding two-wheelers," said More.
"I was completing my filmmaking course then and was suppose to get my degree in the month of May but I met with an accident in March, 2015. I was devastated. However, my family was supportive and doctors, I survived. Since then, I have become a campaigner for the cause, " said More.
Personalise your news feed. Follow trending topics