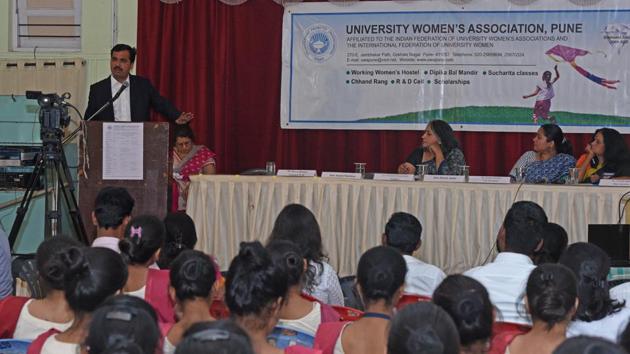 Loopholes in Sexual Harassment of Women at Workplace Act : Advocate Randive
A discussion was also held on the Internal Complaints Committee (ICC) of organisations with more than 10 employees and a government-appointed Local Complaints Committee (LCC) for smaller companies
UPDATED ON MAR 15, 2019 05:31 PM IST
Even though the Sexual Harassment of Women at Workplace (Prevention, Prohibition and Redressal) Act, came into existence in 2013, only 23 judgements in courts all over the country along with two judgements from the Supreme Court, have been given under it. This was observed by advocate Anant Randive, a practising lawyer from the city, at a seminar on sexual harassment at workplace, held by the University's Women Association (UWA) on Thursday.
A number of panellists along with 130 nursing students, 20-30 law students were present at the Gokhalenagar campus of the University's Women Association's hostel auditorium for the seminar.
Randive observed that loopholes in the act leave complainant women at a loss. "It is unfortunate that the compensation for workplace harassment is ultimately just money," said advocate Randive, who teaches in multiple law colleges.
A discussion was also held on the Internal Complaints Committee (ICC) of organisations with more than 10 employees and a government-appointed Local Complaints Committee (LCC) for smaller companies.
Present during the event were Shabnam Poonawala, president of University's Women Association; advocate Shruti Joshi; Rekha Monani, vice-president of University's Women Association; along with Yogit Mishra-Tiwary, one complainant who went up against her superiors and won the case.
The seminar ended with a heated conversation between the panellists and the attendees.
Close