Startup Saturday: Betting on cannabis for utility that does not get you high
Hindustan Times, Pune |
Namita Shibad
Mar 16, 2019 03:01 PM IST
Karan Sarsar, co-founder of Awega Green Technologies says that it is high time for India to embrace the health, business, and broader societal benefits that legally regulating cannabis can bring
While legalising cannabis or hemps in India still seems a long way, 25-year-old Karan Sarsar saw immense potential in hemp. Popularly known as ganja or cannabis.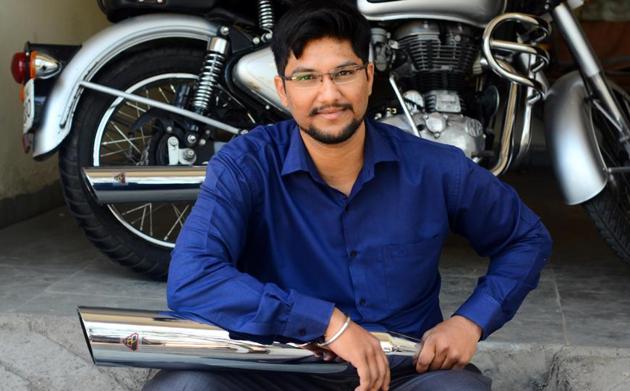 He says, "I was doing a project for my Engineering course when I saw a video that showed how Henry Ford made a car out of hemp back in 1937. It talked about hemp being used as an eco-friendly alternative and many other uses. This fascinated me."
Ride of discovery
Sarsar said, "If you look around you will see how we are using things that damage the environment. Since I use a motorbike I thought how can I use hemp to reduce the bike's emission? Why not build an exhaust muffler with the use of hemp?"
Sarsar was still in touch with his juniors from JSPM's Imperial College of Engineering and Research where he did his mechanical engineering. He gave them this idea to work on for their project. In 2016 the students helped build the concept and design of a High Performance Exhaust Muffler that would help reduce the carbon emissions from a two-wheeler vehicle to zero.
Perhaps, hemp or ganja could not give Sarsar the high that he got when his exhaust muffler was built. Karan said, "I filed for a provisional patent for the exhaust muffler and received a patent number in 2017. After that I decided to build a prototype for an on-road test. I co-founded Awega Green Technologies in February 2018."
Collaboration and testing
For the on-road testing we needed infrastructure. Sarsar said, "I knew Shakil Shaikh of Aashu Engineering Works. He is an after-market dealer who manufactures exhaust mufflers for bikes. I thought he would be the right person to do this for me. We built the exhaust muffler in Shaikh's workshop. We built the main components with hemp."
The task before him now lay in testing his innovation. Sarsar said, "I roped in my brother and a friend and they agreed to let me try the exhaust muffler on their vehicles. The results of the testing were very encouraging." Sarsar added, "The results showed an increment in performance of the bikes of at least 40 per cent."
However, the test was done only on two vehicles. Sarsar needed to do more tests before he could offer this product in the market. In a bid to do that he approached his mentor Fareez Bhathena who is an expert in the automotive industry. Bhathena had helped Sarsar with his projects in college. Sarsar said, "Bhathena appreciated the results and helped me build the aesthetics of the exhaust muffler in Shaikh's workshop."
Showcasing the product
To take his hemp exhaust muffler to people Sarsar showcased it at Mindspark 2018 an event organised by College Of Engineering Pune. The exhaust muffler drew the attention of a lot of people.
Sarsar said, "In the bike world we have the early adapters who will try new technology and products even without government certification. Once they are convinced they will adapt to it. We got 10 people who changed their old exhaust mufflers to our hemp mufflers."
Government impediment
Sarsar says, "Innovating is one thing and launching the product universally is another. The hemp exhaust muffler can be used by everyone only if our raw material, that is the hemp is legalised. The government does not legalise the use of hemp or growing of the plant because it could be misused. The industrial hemp (Cannabis Sativa) that we use is different from Marijuana (Cannabis Indica)."
Sarsar further adds, "We source the hemp Bombay Hemp Company who has a licence to grow and sell cannabis for research purposes. However, if the government legalises the hemp it would be beneficial to people who make products with hemp and even farmers."
Future plans
Since his fascination for hemp is deep, Sarsar is looking at the plant to see how else it can be used. Sarsar has made a biodiesel using hemp seeds with the help of his industrial mentor Chetan Sayankar.
With the Maharashtra government banning plastic, Sarsar sees hemp as a potential replacement. According to Sarsar these hemp bags are biodegradable and can carry weight up to three kilogrammes. Sarsar says, "Hemp bags are 100 per cent natural solution." Sarsar has also developed a replacement for plywood called Hemp EcoPly. These plywood's are eco-friendly.
Hemp can save the world
Sarsar says, "This amazing hemp plant can be used is a million things. There are studies that show how hemp can be used for cancer treatment. Only if the government could look at it from a different angle, hemp could the planet. And I will definitely find more ways in which I can use hemp to save the environment."