Survey among Pune college students reveals insensitivity towards people with mental illness
Hindustan Times, Pune |
Nozia Sayyed
Aug 09, 2018 04:28 PM IST
70 per cent of respondents admitted to using derogatory words which stigmatised mentally-ill patients
Insensitivity and apathy about mental illnesses in Indian society have been revealed starkly by a recent survey of about 1,500 college students in the city undertaken by the Schizophrenia awareness association (SAA).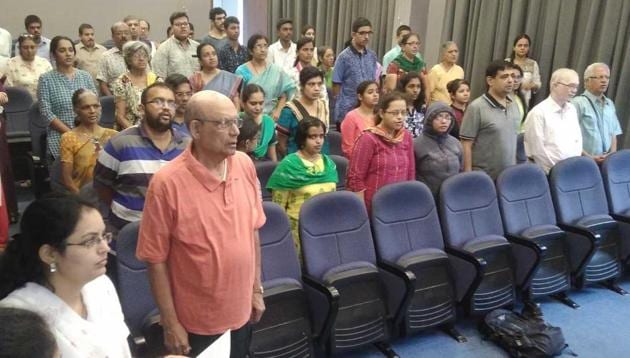 The survey revealed that almost 70 per cent of the respondents admitted to using derogatory words which stigmatised the mentally-ill patients.
Conducted among youngsters in the 18 to 22 age group, the survey revealed that almost 70 per cent of them admitted to 'labelling" or describing a mentally-ill patient with derogatory terms. The top five words used by students were 'mental', 'veda' (mad), 'psycho', 'matimanda' (retarded), 'dokyavar padlela' (fell on his head) and 'circuit'. Other derogatory references included 'pagal', 'unstable', 'abnormal', 'half mad', 'dumb' and 'murkha' (stupid).
Anil Vartak, vice-president of SAA, said in an interview that the survey was conducted in the last three months and the results were shocking. "Not only is there the use of derogatory words to describe a patient suffering from mental illness, but there is also a lot of stigma attached to it," he said.
He pointed out that the students said they were habituated to using these derogatory terms unintentionally and did not realise the deep hurt they were causing.
"We found out with this experiment that stigma attached to mental health and illness is deep-rooted and instead of rehabilitation, we need to focus on eradicating this stigma by creating awareness., and that too aggressively," Vartak said.
SAA has now decided to extend this survey to other districts in the state and then launch a statewide educational plan based on the results.
This statewide programme would be called 'Stich', meaning 'stigma+ watch', under which workshops and educational programmes would be run in the entire state.
SAA also plans to approach superstar Deepika Padukone's Mumbai-based NGO, 'The Live Love Laugh Foundation' for assistance in this initiative.
Vartak said that the treatment of the mentally-ill patients is delayed when they are stigmatised by the society. "The patient fails to approach or get help till his symptoms become visible or the illness becomes unbearable. To help such patients and prevent such vulnerable situations, it is important for associations working on mental health to come forward and work with us," he said.
Patients, counsellors and caregivers have been invited by SAA to share their experiences in this mass awareness programme, besides others who want to volunteer in this effort.
Mental health workers, volunteers, pledge not to violate human rights of patients
Bapu Trust and Schizophrenia awareness association (SAA) organised a gathering on Monday to recall the tragedy and horror of the death of 28 inmates of a faith-based mental asylum at Erwadi, Tamil Nadu, on August 6, 2001. All the deceased inmates were chained to trees and their beds when a fire broke out in the ramshackle mental asylum.
Representatives of voluntary agencies working towards the awareness and treatment of patients suffering from mental illness attended the event at SAA's rehabilitation centre located in Dhayari.
AK Bakshi, president of SAA, said, "The Erwadi incident is an eye-opener as it was a violation of human rights. No patient should be chained like this to a tree to control violent behaviour. We commemorate this day by taking a pledge not to treat any mentally-ill person with stigma or look down upon them."
During the programme, 28 candles were lit, and Bhargavi Davar, director of Bapu Trust, said, "Post treatment and recovery, societal acceptance is a must for the treated one. Moreover, art-based therapies too can be included for better recovery from mental illness. Patients suffering from psychological disorders should seek early help for better treatment."
Akhileshwar Sahay, a mental health activist who was present, said, often, the superstitious beliefs of relatives or family members delays the treatment and possibility of early cure. This should be avoided and the doctor's suggestions and counselling should always be followed in the case of mental illness or any health problem. "Besides this, eradication of stigma should be the aim this year, so that rehabilitation of mentally ill after treatment becomes possible," he said.
Around 50 persons were present in the programme, including caregivers, patients and volunteers.