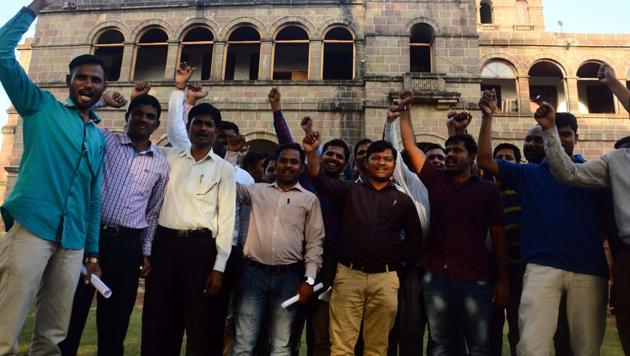 Tension mounts as Savitribai Phule Pune University scholars demand basic salary to survive
Stating that the education system has made a mockery of scholars choices and education, the agitators demanded that they be freed from the burden of degrees.
Hindustan Times, Pune | By Ananya Barua
UPDATED ON MAY 03, 2018 05:40 PM IST
What is the use of this piece of paper we call a degree, if it cannot fetch us respect and a basic salary to survive," said one of the protesters gathered in front of the main building of Savitribai Phule Pune University (SPPU) on Wednesday. In hundreds, these were PhD students and pass-outs of National Eligibility Test(NET) and State Eligibility Test (SET), ruing over the reluctance of the university to provide jobs despite their qualifications.
"It is not the problem of just this university, but all, across the state. This rule that still forbids the recruitment of professors and assistance professors despite vacancies, is just beyond reason. And, it is us who suffer despite having been slogged for years to attain the qualification," said Mahaveer Sable, a PhD student from the Hindi department.
Stating that the education system has made a mockery of their choices and education, the agitators demanded that they be freed from the burden of degrees. "Today, there are PhD scholars who work as waiters in restaurants, as rickshaw drivers and what not. Many of our friends are forced to do this work, in spite of being highly qualified. Then what is the point? How will we teach the young generation about education as it has neither uplifted nor empowered us. So, the best thing to do is to give away the degrees for good," said Sable.
The demands, they say are the outcome of bottled-up frustration. "We are asking the university to take back the degree, and either allow us to die, or provide ₹25 lakh zero interest loan to bribe the government officials into getting a job. If that does not work, probably they should allow us to commit theft. What else is the alternative? Living on a mere ₹7,000 as stipend and no job eventually, can't be a life worth living," he added. A period of one month has been given to the university for consideration, after which the protesters will escalate it on a state-level.
Dhanraj Mane, director of higher education in Maharashtra, had recently stated that recruitment to fill vacant seats for professors and assistant professors will soon begin. This is after a decade-long limbo.
The protesters look at these statements as empty promises. "Such claims without a stipulated deadline, have been made in the past and has yielded no result. These are just tricks to stop us from asking the right questions. In Mumbai, a similar protest was organised by students and scholars that went up to the education minister Vinod Tawde, but still nothing much has been done yet. The complete system is a failure, and the recent English department struggle is a reflection of that," said Kiran Manjare, PhD student, English department.
He said, that while the dearth of professors is reducing the education quality, the reluctance of the authorities to acknowledge it, is making it worse. "For instance, at our department, there should be a minimum of 8 professors, but unfortunately the department has been running on the support of only 2 assistant professors. Similar is the case in other departments. An entire university cannot function without adequate teachers, that is the basis of an educational institute. If this continues, the university is soon to collapse," he added.
Close