There's a lot to me than just a glamourous actress, says Asha Parekh at PILF
Hindustan Times, Pune |
Prachi Bari
Sep 10, 2017 11:43 PM IST
Asha Parekh took the audience through her life journey with her childhood, her beginnings in Indian cinema, her ups and downs and her fight against depression and loneliness
"I wish I could have come to FTII and sat under the wisdom tree. I definitely would have loved to study here but, the institute came up later and by that time I was already an actress," said actress Asha Parekh. She was talking at the concluding session of the 5th Pune International Literary Festival (PILF) at Yashada.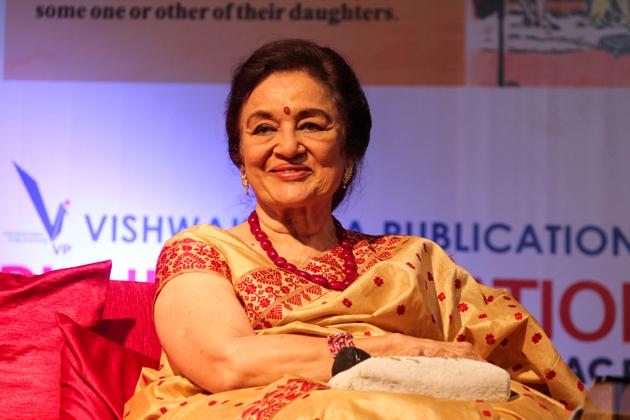 She co-authored her autobiography, The Hit Girl published by Om Books International, with journalist Khalid Mohammed. This book has won the Second Best Book award.
Asha Parekh took the audience through her life journey with her childhood, her beginnings in Indian cinema, her ups and downs and her fight against depression and loneliness.
"I have a distinct attachment to Pune, shifting into Marathi without any hesitance, 'khara sangte khota nahi bolat', it was in this city that my father, a Hindu Gujarati fell in love with my mother, a Bohri Muslim studying in Fergusson College. He proposed to her here and despite the communal turmoil, they got married and went through many highs and lows in life." But Asha stressed that growing up in both homes was the best of both worlds. I was named Zulekha by my maternal grandmother and she was very happy when I was born, but I liked both the names.
Her stint chance of dancing on stage got her the first ever role as a child artiste. "I was a child and would love to dance. I was on stage when I was nine-years-old and I learnt dance in seven days for the programme in school," she said, adding, "I can't dance to today's music. Dances of today are not dances but more of acrobats. Actually, its all Western music and dance moves. I feel sad that we have such beautiful dances and folk dances which are lost and it is indeed very bad."
"There was a lot to me and not just an actor. I wanted people to know that there was much more to me than a glamourous heroine and know that I was the first women on the board of Censor Board Film Certificate (CBFC), my work with the Asha Parekh Hospital in Mumbai, and so on," she stressed.
She was very articulate, bubbly and also open about her life, her love for her mentor Nasir Hussain, where she said, "I was in love, I won't deny it, but I didn't want to be a second women," or on losing the only chance to work with Dilip Kumar.
She also missed working with director Satyajit Ray. She said, "He wanted to cast me in his film when he saw my photo in a photo studio but, unfortunately I couldn't work with him."
There was no looking back for her after her very first film Dil Deke Dekho which was a silver jubilee film. Asha also felt that if there was a role that she would have loved, it was that of Mother India.
Asha also spoke openly about the lowest period in her life and her fight with depression. She said, "It was a long battle with depression. This happened when I lost, first my mother and then my father, some years ago. Being an only child, I was very lonely. It was tough to get through household things for I grew up pampered, looked after and suddenly I was lonely, but this life also taught me how to look after yourself, but I got through it."
The session concluded with a very interesting question and answers session with the audience where Asha Parekh had one advice to give, "Think twice before getting into films and live for today."