Was stuck in the debris, managed to shout for help: Survivor recounts Pune wall crash
Karmakar, along with local residents, immediately called the fire brigade and police who reached the spot around 1.40 am, within 10 minutes of the collapse.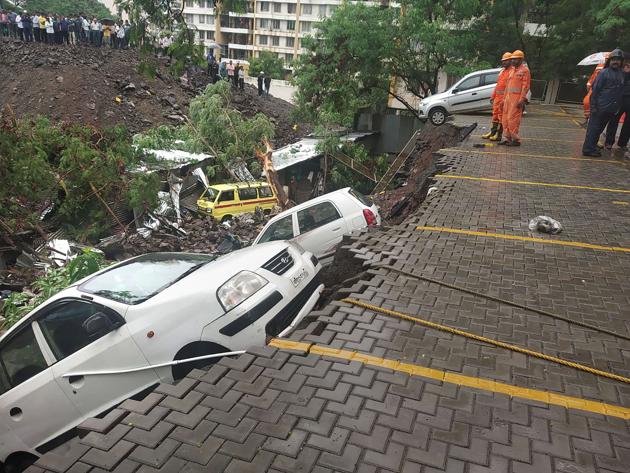 Updated on Jun 30, 2019 04:23 PM IST
Hindustan Times, Pune | By Shalaka Shinde
The 15 victims who died in the wall collapse in Kondhwa on Saturday were asleep in their shanties set up as part of labour camp at an underconstruction site. While most labourers were affected by the wall collapse, some escaped to tell the tale.
Pradeep Karamkar, 25, one of the workers, was sleeping in a room away from the compound wall that collapsed. Karamkar and three other people in his room, survived the collapse.
"I knew all the victims. They were all sleeping in seven rooms right next to the wall (which collapsed)," said Karamkar, who screamed for help as he heard a loud noise.
"I was sleeping in the room which was farthest from the wall.The loud noise jolted me out of sleep, and I rushed outside to see what had happened," said Karamkar, a native of Bhatganj in Tilakpara area of West Bengal.
Bimal Sharma, who works as a carpenter and hails from Bihar, said,"I thought the entire building has come crashing down on me. I couldn't see anything. I could hear the voices of some others who were crying or shouting in shock. I too started shouting," said Sharma . Sharma's torso and limbs were caught under the debris but, his head was safe and free to move as a tree trunk had blocked the sliding stones and soil from falling over it. " I was stuck in the debris, but somehow managed to shout for help and was rescued," Sharma said.
Ranjay Sahani (32), the brother of Lakshmikant Sahani (36) who died in the collapse, was asleep when a phone call woke him up. The brothers are from Dighra village of Bihar's Saran region.
"I do not know who called me at 2 am and said that something bad had happened at the labour camp where Lakshmikant was. So, I rushed there," said Sahani.
Another two survivors included Puja Rajesh Sharma, 28, and Ajaykumar Dilip Sharma, 19.
Close Story