Your space: Pune residents deprived of basic needs, finds out water-mafia investigation
May 27, 2018 03:15 PM IST
Topic of the week:A Hindustan Times investigation has revealed the blatant theft of lakhs of litres of municipal water, not just from the Pune Municipal Corporation's (PMC) water tanker filling stations, but also from pipe-lines punctured. Water tankers are holding several residential colonies to ransom over this essential commodity which is a basic right. What must be done to rid the city of the water mafia? Write to us.
1. PMC is accountable for water supply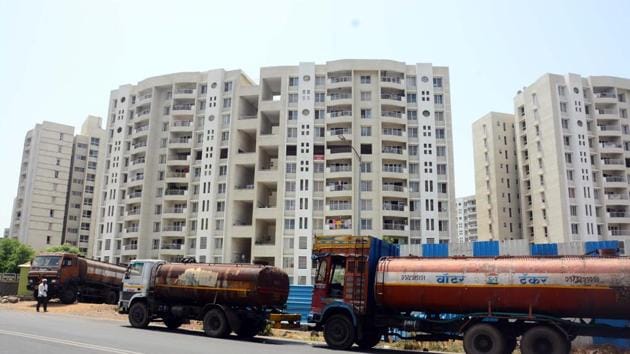 We wish to draw your kind attention towards the genuine difficulties faced by the residents of a number of housing societies in Aaple Ghar and EON SEZ, Kharadi, due to insufficient / lack of basic requirements like road, water and garbage collection. Since the start of the year 2010, a large number of residents have started living in different housing projects developed by various construction companies/builders and developers in and around Kharadi.
PMC charges property tax from each and every flat as soon as it is completed. The amount of the annual property tax ranges between Rs 6,000 to Rs 14,000 per flat per annum depending upon the area and occupation (self occupied or rented). In aggregate, the members of these societies are paying the property tax in the range of approximately Rs 6,00,000 to Rs 55,00,000 per society per annum depending upon the number of flats in each society.
Considering the amount of property tax paid by members of all the societies in the vicinity (the amount must be in crores of rupees collected annually), the basic facilities provided by PMC in the area are incomparable. The developers and builders have also paid a huge amount of money (we do not have exact details of the money paid by builders to PMC) in the form of development charges while constructing any residential project in the area.
In addition to the property tax, the housing societies have to purchase water from the local water suppliers at exorbitant prices (approximately Rs 500 per water tanker of 10,000 litres capacity and Rs 1,400 per water tanker of 10,000 litres capacity for drinking water) and they have to pay the private tempo owner to collect the garbage from each society which ranges from Rs 3,500 to Rs 10,000 per month.
This demonstrates that the residents within Pune municipal limit are deprived of our basic daily necessity of good quality water and waste collection by the civic body. This is causing a financial hardship on all the societies and creating an extra burden on the limited resources available with the housing societies.
Although some of the housing societies have the water connections sanctioned by PMC, but supply of water by PMC is only for half an hour which is not sufficient to the number of residents living in these societies.
We would request you to kindly look into the matter and consider few suggestions put forward by us in this regard:
Increase the timing of water supply from half an hour to at least four hours so that the housing societies can be benefitted. Supply free water tankers to all the individual societies depending upon the number of its residents. Ensure water suppliers do not charge exorbitant prices for supplying water tankers. Sanction additional water connections to the individual societies depending upon the number of its residents. PMC vehicle to come daily to collect garbage from individual societies and residents of the societies to segregate the garbage into wet and dry. -Manoj Dudhankar
2. Public authority is accountable
I am a resident of Baner area and I would like to give my opinion on your question, what must be done to rid the city of water mafia. In order to answer this question, one needs to decipher what a 'water mafia' actually means. A 'mafia' by definition means an organized body of criminals using public resources for private profit. HT has rightfully caught the pulse of the city that there is indeed a water 'mafia' in existence in our city.
Now the main question on how do we rid the city of this 'mafia'? It's very straightforward answer, the water mafia cannot exist without the collusion of the public authority. The public authority is accountable for the citizens for which it is being paid through taxes. A common resource like water which the governing authority has to distribute uniformily, fairly and judiciously to the public are being sold for profit by a cartel. Therefore, the buck stops at the public authority, and is fully accountable for this situation, since they are also responsible for town planning and should be fully aware of managing the city's resources to the full satisfaction of the citizens. There is thus a complete failure of governance and hence the public authority should be held fully responsible for this.
-Swapna Narayan
3. Bringing out big names
Thank you team HT. We appreciate the "bold" journalism that you all are doing. It is not easy to write against politicians, bureaucrats and support common people. Your team is reviving the journalism that is dead. We will support you and your team in whatever way we can. Thank you for being the voice of common people. We all connect with your articles. - Harcharanjeet Butalia
4. Common man's plight
Thank you so much for your extensive coverage of the water issues in Wagholi. Your efforts to highlight the issue are much appreciated by the residents of Wagholi. It is a fantastic example of journalism by your team where you are so connected with the common people and are always ready to help and highlight their issues. Kindly convey our thanks to the whole team of Hindustan Times. -Sandesh S Lokhande
5. Water mafia at work in Dhanori
Thanks for the excellent coverage of water problems in Hindustan Times. You have touched our hearts with your series of articles on water mafia. We are facing similar water problems in our apartment at Palladium Grand, Dhanori, Lohegaon road, opposite Shree Hans Society, Pune.
At Palladium Grand, we have not been getting enough water for the past nine years. Due to which, our water bills and dues to tankers lie in the range of Rs 12 lakh. On a yearly basis, our water bills are in the range of Rs 10 lakh to Rs 12 lakh. Last month, in April 2018, because of large water dues, the water tanker owners had threatened to stop all water tanker supply to our society.
The surrounding societies get enough water and have less dependency on water tankers. It appears that the Pune Municipal Corporation (PMC) has allowed them more pipe connections, but we do not have any political backing so we do not have enough water. We request the PMC to do a water audit to find out why Palladium Grand is getting less water while the other societies in the area have enough water. - Arunkumar Nair
6. Officials and their stoic replies
I have been following your expose on the Pune water tanker mafia holding the city to ransom with utmost interest. This is how water gets lost for genuine users and PMC gets rapped by the irrigation department for drawing excess waters beyond their allotted quota. All that you have been quoting, the stoic replies of officials of PMC, that we are looking into it, that no tanker has been allowed to fill water at PMC tanks when the pictures accompanying the expose has been contrary, I have two suggestions to offer on this:
It would be nice if you could interview Girish Bapat, Pune guardian minister; Sharad Pawar; Supriya Sule; Vandana Chavan; Ajit Pawar; the present municipal commissioner, Pune city collector, the present elected leaders of the PMC and PCMC and their heads of the water supply department to get their views on this and their specific commitment on how they plan to bring an end to this.
Please get to the bottom of the water mafia, publish the names of the tanker owners and the possible connection to political leaders and expose them. A sting operation would be welcome. Keep up the relentless work that you are doing. - N Kalyan