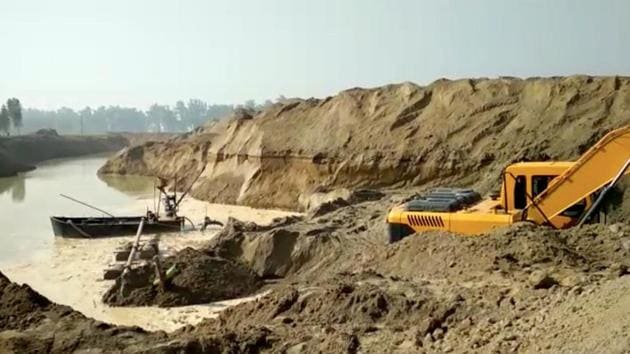 65% of sand is used for Punjab govt projects, but departments have no bills to show
Digging out the truth: Rules mandate sand for government projects should come from auctioned quarries.
UPDATED ON APR 07, 2018 09:53 AM IST
The Congress government's crackdown on illegal mining will have to begin from home. As the cabinet sub-committee headed by local bodies minister Navjot Singh Sidhu tried to unearth the reasons for soaring sand prices and flaws in previous policy, it has not only found a "politician-police-official nexus", but also that even government departments have no bills to show that their projects used sand from legal quarries.
The panel, which also comprises finance minister Manpreet Singh Badal and rural development minister Tript Rajinder Singh Bajwa, met government officials as well as private stakeholders on Friday following chief minister Captain Amarinder Singh's one-month deadline to submit a report on illegal mining. The panel hopes to do so within a fortnight.
Of 110 contractors who have bid for quarries in the last two auctions, just 50 have paid the earnest money totaling to Rs 130 crore against windfall of Rs 1,100 crore that the mining department had projected. The annual revenue of the previous Akali-BJP regime was Rs 40 crore from reverse bidding process.
The source of the government's own construction material, too, is now under the scanner.
"Of the total sand demand, 65% comes from government infrastructure projects such as housing, roads, bridges etc and the rest from the private sector. Rules mandate that all government contractors use sand from mines auctioned by the state. However, no department has bills to show that the rules were followed. It hints at the possibility of the material being sourced from illegal mining," Sidhu said after the meeting.
Must read | One year of Punjab govt: Sandstorm refuses to die down as ground reality remains in the pits
Contractors flay govt policy
The government's progressive bidding policy also came in for heavy criticism from around 50 contractors present at the meeting, who dubbed it a 'failure as it tried to mint money from exhausted mines'. They said that the amount of mining material was not ascertained scientifically before the auction. While some mines were already exhausted, villagers did not give access to few mines. "The progressive bidding policy contradicts the government's efforts to tame sand prices. A bidder has to recover his money too," a contractor present at the meeting said. They asked the government to opt for a uniform bidding process.
Manpreet, who imposed new taxes in his March budget, was told by stone crushers that Punjab could earn revenue by taxing the trucks of gravel entering from neighbouring states of Jammu and Kashmir (J&K) and Himachal, which charges Rs 7 per unit power for crushing and Rs 8 royalty per tonne from land owners. Official estimates say that nearly 2,600 trucks of gravel enter the state every month.
"We are on verge of closure and the state is suffering loss of revenue, while the gravel mafia is collecting goonda tax from trucks entering the state. The common man is paying higher prices too," the owner of a stone crushing unit said.
The 2015 notification for allowing leveling of fields by farmers led to sand being dug out from even up to 70 feet. "Not only was the quality of sand poor for construction, it damaged our ecology too," an official said.
Close