Amusement structure at Sukhna violation of norms
Updated on Oct 23, 2018 12:18 PM IST
No structure that hides Shivalik Hills as the backddrop can come up in the area.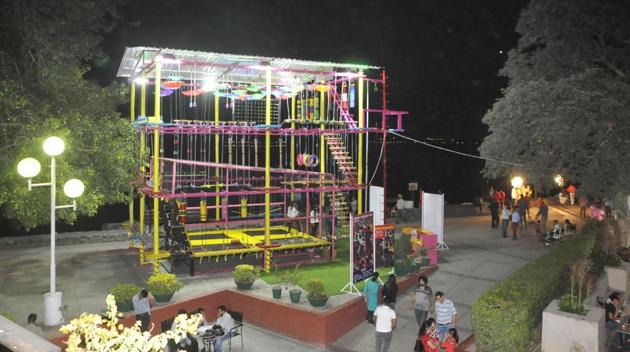 Even though Sector 1 has been declared a no-construction zone for high-rise facade or superstructures, the Chandigarh Industrial and Tourism Development Corporation Limited (CITCO) has allowed a structure at the entertainment zone being run by a private agency at Sukhna Lake.
Not just an eyesore, this high rope course near the food court on the Sukhna banks is also against building bylaws of the city. UT home secretary Arun Kumar Gupta inaugurated it on Monday.
During a visit to the lake, it was found that the structure — which has been named Adventure Castle — has been put up on the pedestrian pathway that was constructed by the UT administration to beautify the tourist spot. The private contractor has apparently constructed it beyond the area identified for the entertainment zone in violation of norms applicable at Sukhna Lake.
Senior architect Surinder Bahga said: "Such superstructures spoil the character of Sukhna Lake. Le Corbusier had designed the Lake Club at a lower level than the ground, so that no structure hinders the beautiful Shivalik hills as the backdrop."
CITCO managing director Jitender Yadav said he is not aware of the structure. "I will look into it," he said.
Meanwhile, UT chief architect Kapil Setia said no construction that obstructs the Shivalik hills as a backdrop has come up. "I am not aware of it, but will get it checked," he said.
SS Bhatti, former principal of the Chandigarh College of Architecture, said: "The officers concerned are not aware of the true character of city. Sukhna Lake has been declared a silence zone, reflected in the concrete cuboid on the lake promenade. Crass commercialisation and exploitation of the lake should be avoided."
Topics