Assembly of the young: Youth at the helm of resurgent Punjab
Updated on Mar 25, 2017 10:44 AM IST
PUNJAB XI The 15th assembly of Punjab witnessed a historic departure from the bipolar politics practised by the state since independence. For the first time, the leader of the Opposition was not from the two traditional rivals, Congress or Shiromani Akali Dal, but from the debutant Aam Aadmi Party.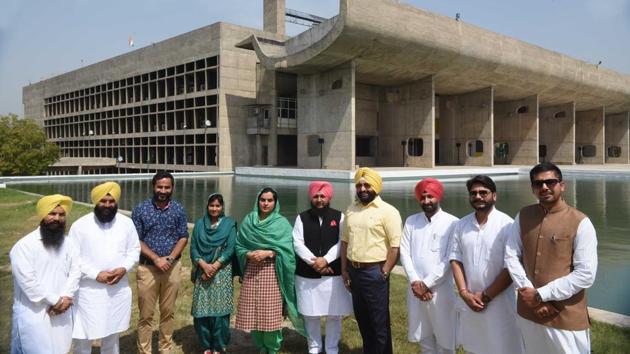 Hindustan Times, Chandigarh |
Mnaraj Grewal Sharma
PUNJAB XI The 15th assembly of Punjab witnessed a historic departure from the bipolar politics practised by the state since independence. For the first time, the leader of the Opposition was not from the two traditional rivals, Congress or Shiromani Akali Dal, but from the debutant Aam Aadmi Party. It's also arguably the youngest assembly in the history of Punjab with 43% first­-timers, 34 of them below the age of 45. The fresh faces reflect the demographics of a state growing younger by the year.
Youngsters between 18 and 39 constituted 53% of the state's voters in the assembly polls. Little wonder then that the poor state of education, rampant unemployment & drugs are the three concerns raised by almost every young legislator. Manraj Grewal Sharma speaks to the 11 young legislators between 25 and 36 years of age to find out how they propose to be the agents of change for a resurgent Punjab.
YOUNG AND EARNEST
ANGAD SINGH (CONGRESS), 26, NAWANSHAHR
The tall young businessman won over Nawanshahr with sheer earnestness despite stiff opposition from his uncle. Born into a family of politicians — his mother Guriqbal Kaur was the sitting MLA — Angad chose the Youth Congress route to politics soon after he was jolted into adulthood by the sudden death of his father.
SECRET SAUCE
Though locals say they were bowled over by his sincerity, Angad credits Capt Amarinder for his win. "He steered the state to victory," he insists.
ROAD AHEAD
Angad promises a clean and accessible administration in Nawanshahr. On drugs, Angad underlines the importance of treating the addicts. "We must have state-of-the-art de-addiction centres at every district HQs to ensure the addicts get back into the mainstream." Angad says he will also draw attention to the alarming rise in the number of HIV and hepatitis cases in the state.
BY THE WAY
Running is his daily fix. Thanks to it, this ardent foodie lost over 15 kg last year.
ENGINEERING CHANGE
GURMEET SINGH (MEET) HAHER (AAP), 27, BARNALA
For this mechanical engineer from Barnala, who defeated the sitting MLA, industrialist Kewal Dhillon, despite empty pockets, politics happened when he was preparing for the civil services exam. Fired by the Anna Hazare movement of 2011, he was part of the AAP's four-member youth executive team for Punjab. "There isn't a village in Punjab that I didn't visit," Meet smiles. Four years of campaigning in villages, and he was poll ready.
SECRET SAUCE
His school, and family. "BGS Public School, my alma mater, must have fetched me at least 15,000 votes," says Meet. Former captain of the school football and cricket teams, Meet had even primary school students seeking votes for him. His father, a retired SDO, who used to nag him for ruining his life by joining a new-fangled party, went door to door along with his three sisters to garner votes for him. Meet says he was 100% confident of his win because he was just like his voters, a common man.
ROAD AHEAD
Meet is keen to mobilise an MLA fund on the lines of MPLADS. For Barnala, he says: "Main jaan maar doonga (I will do my best) to stop corruption and drugs besides bringing jobs for youngsters." Upgradation of the civil hospital is also a priority.
BY THE WAY
Loves his three dogs, the eldest is called Orbit. "I was inspired by the gum, not the Badals," he chuckles. The youngest, Jack, a mongrel with three legs, he rescued from the Barnala bus stand.
FRESH AND FEISTY
RUPINDER KAUR RUBY (AAP), 28, BATHINDA RURAL
Low on bank balance and high on academics (she is pursuing PhD in law), Ruby fought a very spirited battle against some formidable opponents and came out a winner. Inspired by her father, a founding member of the AAP, to join the party, Ruby is now determined to raise her voice in the assembly to make sure the government delivers.
SECRET SAUCE
Ruby says she won due to the sheer goodwill of people who saw themselves reflected in her. "I had no money to spend. The locals managed the campaign for me, it's their victory."
ROAD AHEAD
Ruby is particularly concerned about education, employment, drugs and sanitation. "A weak education system is our curse. Drugs and unemployment flow from it," says Ruby, calling the Akali Government's decision to promote all children till Class VIII a conspiracy.
BY THE WAY
Loves to watch Hollywood movies in her spare time. Favourite actors: Johnny Depp and Tom Cruise.
LIVING A DREAM
BALJINDER KAUR (AAP), 31, TALWANDI SABO
She was a schoolgirl when she decided to become a politician. "The how and why didn't bother me, nor the fact that there was no politician in my family," says Baljinder. She was teaching English in a college at Fatehgarh Sahib when the AAP jumped into the fray during the Lok Sabha polls. Baljinder not only campaigned for the party but also built up its women's wing. The win from Talwandi Sabo was the final icing on the cake.
SECRET SAUCE
The people power. "I love going from door to door, it energises me," says Baljinder, who claims she fought very clean polls without liquor or money.
ROAD AHEAD
Baljinder says she will use her time in the assembly to voice the hopes of the common man so that the government can fulfil them. "People of Talwandi Sabo have reposed tremendous faith in me. I can't let them down."
BY THE WAY
Enjoys performing giddha and singing Punjabi 'boliyaan', is very good at basketball too.
IN RIGHT FRAME
JAI KRISHAN SINGH (AAP), 33, GARHSHANKAR
Aphotographer with a passion for social work, Singh toiled hard for the AAP during the 2014 Lok Sabha polls, which finally got him the ticket
SECRET SAUCE
Connect with people. Jai Krishan says it was a contest between the rich and the common man, and he won because of his connect with the common man.
ROAD AHEAD
Singh says he will strive to be an honest politician, and help the state get rid of drugs besides finding a solution to the rampant unemployment. As for Garhshankar, he plans to seek expert advise to solve the traffic chaos.
BY THE WAY
Is a fan of taekwondo, practised it for two years; plans to carry on photography.
ASSEMBLY GRADUATE
DALVIR SINGH GOLDY (CONGRESS), 35, DHURI
He had his first taste of politics when he was studying in SD College at Chandigarh. It's been a long journey from Panjab University to the Vidhan Sabha for this fiery student leader. Born into an ordinary middleclass family with no roots in politics, he banked on Aashirwad, his NGO, to do what he liked most: social work. His name in the first list of Congress candidates was his first reward, the second was the poll victory.
SECRET SAUCE
Sheer hard work. He managed to get votes because of his social work, which included an alternative road to beat the hefty toll fee from Dhuri to Sangrur, a bus shelter at Dhuri, sewerage system at Dugni village, and repair of defective RO systems in villages. He accomplished all this by mobilising the locals.
LOOKING AHEAD
Goldy says it's vital to harness the energy and idealism of the Punjabi youth. "Dhuri has so many unemployed engineers and educated youth. I want to help them set up agri-related ventures." He also plans to upgrade the civil hospital with a modern diagnostic lab. And he will crack the whip on government schools to ensure they deliver.
BY THE WAY
Loves holidaying in Gulmarg with wife Simrat, his partner in life and politics.
MAJHAIL ON A MISSION
BARINDERMEET SINGH PAHRA (CONG), 36, GURDASPUR
Raised in a political family with Akali leanings, Pahra applied for the Congress ticket in the youth quota by dint of his performance in the YC elections. The party thought Gurdaspur was a hard nut to crack but Pahra was confident. "I promised Capt Amarinder that I would win by 25,000 votes," he says. He won by 29,000, defeating SAD stalwart Gurbachan Babbehali. Now he says he won't let anyone else wrest Gurdaspur from him in the next 10-20 years.
SECRET SAUCE
Honesty and accessibility. "I live in a family of three brothers. But we keep an open house," says Pahra, who begins attending to people at 6 in the morning and winds up only around midnight.
ROAD AHEAD
Pahra, who's preparing a white paper on Gurdaspur to use as a benchmark for his performance, is planning an industrial park on 3000 acres near Kalanaur. "Agriculture is on the decline, industrialisation is the only hope for our youngsters," says Pahra, who's already launched a drive against drugs. Young voters, he predicts, will vote for individuals, not parties in the coming elections.
BY THE WAY
Loves travelling to McLeodganj and Mussoorie with two best buddies.
EARTHY & ENERGETIC
KULBIR SINGH ZIRA (CONGRESS), 36, ZIRA
He got the ticket from Zira after 17 long years. The win, he says, is a fruit of sheer hard work. "All those leaders who were connected to their constituencies won," says Zira, who has hit the ground running, and has already moved the office of deputy superintendent of police back to the city of Zira from the outskirts, besides sending out a stern warning to drug sellers and users.
SECRET SAUCE
Hard work and accessibility. "I am always there for people. Even after my win, I haven't had time to spend a night in Chandigarh because of pending work here."
ROAD AHEAD
Zira says his top priority in the assembly will be to focus on the incidents of sacrilege, and bring to book the culprits. Eager to revamp education in government schools, he says, "I will give them all the resources and then personally ensure they deliver."
A degree college for women, and a bus stand at Makhu are the other must-haves on his list.
BY THE WAY
Calls Gurdwara Baba Budha Sahib his real home; heads there before and after any important event in his life.
MEGAWATT MAN
PIRMAL SINGH DHAULA (AAP), 36, BHADAUR
From fighting for the rights of electricity board linemen to defeating four-time MLA Balbir Singh Ghunas, Dhaula has made quite a dramatic entry into politics. Growing up, politics was never a choice of profession for him. Sacked by the Akali government on charges of incitement, Dhaula was on a fast-unto-death in Patiala in 2016 when he was approached by the AAP leaders. The rest, as they say, is history.
SECRET SAUCE
Connect with people. Pirmal's long agitation to get jobs for trained linemen, which saw him getting jailed along with his mother, also earned him recognition across Bhadaur.
ROAD AHEAD
Even though he is in the Opposition, Pirmal is confident that he won't encounter the difficulties he faced in the past. It's easier to fight in the assembly, he believes. This first-timer is keen on pushing reforms in education, health, and law and order. Back home, his top priority is to get water for Nainewala mohalla, where the water pump has been out of order for the past 10 years.
BY THE WAY
Enjoys Sufi music, is great at repairing electrical appliances.
MR GO-GETTER
INDERBIR SINGH BOLARIA (CONG), 36, AMRITSAR SOUTH
Bolaria, who was the youngest MLA in the last two assemblies, scored a hat-trick this time despite the fact that he switched party midway. Bolaria says it was a choice between political power and his people. He chose his people!
SECRET SAUCE
Always stands by his people. "I put my people first, my political bosses come second. If you have your finger on the pulse of the people, there is no way you can go wrong," says Bolaria.
ROAD AHEAD
Employment generation is top on Bolaria's agenda. "It's not rocket science. We should invite industries with a slew of concessions, the sole condition being that they should employ the locals." Bolaria is also keen on forging a common minimum programme for the youth.
BY THE WAY
Long drives are his favourite stress buster, the second being playtime with his three-year-old son Jai Inder Pratap.
THE SHY CUB
DAVINDER SINGH GHUBAYA (CONG), 25, FAZILKA
The youngest legislator in the assembly, he was pursuing MA (honours) in economics from Panjab University when he bagged the Congress ticket following his father and Akali MP Sher Singh Ghubaya's humiliation by the Badals.
SECRET SAUCE
Father's legacy. "He's done a lot of work for the constituency," says Davinder.
ROAD AHEAD
Davinder says he will work to create employment opportunities in Fazilka.
BY THE WAY
Is fond of going on long drives all by himself.
Personalise your news feed. Follow trending topics