Bhagwat, Rajnath address Rashtriya Sikh Sangat's Delhi meet on Guru Gobind Singh's birth anniversary
Updated on Oct 25, 2017 07:49 PM IST
Giani Iqbal Singh, who initially agreed to preside over the function, later expressed inability to attend it, citing bad health.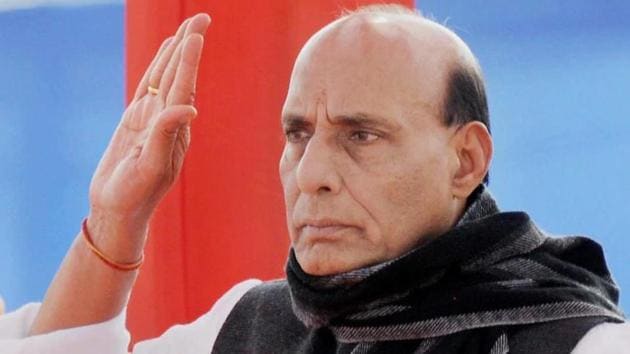 Hindustan Times, New Delhi/Chandigarh |
, New Delhi/chandigarh
HT Correspondents
A day after Patna Sahib jathedar (head priest) Giani Iqbal Singh opted out, RSS chief Mohan Bhagwat and home minister Rajnath Singh addressed the convention at Talkatora stadium in New Delhi on Wednesday evening.
All eyes were on the convention being organised by the Rashtriya Sikh Sangat, an affiliate of the Rashtriya Swyamsewak Sangh (RSS), to mark the 350th birth anniversary of Guru Gobind Singh in New Delhi.
Giani Iqbal Singh, who initially agreed to preside over the function, later expressed inability to attend it, citing bad health.
His decision follows Akal Takht jathedar Giani Gurbachan Singh's edict, asking Sikhs to boycott the convention. He referred to a 'hukamnama (edict)' of the Akal Takht in 2004 in which Sikhs were asked to boycott a march taken out by the Sangat on the completion of 400 years of the Khalsa panth.
Akal Takht is the highest temporal seat of the Sikhs.
"No one can be allowed to distort Sikh history, and this kind of act cannot be tolerated. Sikhs are a separate qaum (ethnic group), and they have a distinct identity and a unique history. When they don't interfere in the rituals, beliefs and code of ethics of any other religion, how can they tolerate interference from others in their own?" he said.
Hardline Sikh groups such as the Dal Khalsa have also accused the Sangat of colluding with the RSS to blur the line between Hindus and Sikhs.
Sikh scholars and representatives of bodies such as the Kendri Sri Guru Singh Sabha, Akhand Kirtani Jatha, Khalsa Panchayat and Voice of Khalsa, said in a statement, "In response to the strong disapproval of the event expressed by many well-meaning Sikhs, the RSS has now decided to call it a sarvdharam sammelan (a meeting of different religions)."
Leaders of various sects, including Namdhari, Nirankari and Nirmal, are expected to attend.
SANGAT DENIES INTERFERENCE
Sangat president GS Gill was at pains to allay fears of Sikh outfits.
"We do not shy away from accepting our connection with the RSS. They support and nurture us, but also respect our gurus and our faith as a separate religion," he said.
The Sangat works in Punjab, Haryana and parts of Rajasthan to consolidate the RSS ideology. It shares the RSS concerns over "forced conversions" being carried out by missionaries in far-flung areas of Punjab and Rajasthan. It runs 500 ekais (branches similar to RSS shakhas) across the country. "This is an attempt to create confusion, and portray the Sangat in a poor light," Gill said.
He said the Sangat was aided by the RSS in clearing misconceptions regarding the community after the 1984 anti-Sikh riots. "It had become impossible for Sikhs to travel outside Punjab. There was distrust, and Sikhs – who have a glorious history – were viewed with suspicion. It was on the Prakash Utsav of Guru Nanak in 1986 that the Sangat was formed, and has since received support from the RSS."
Personalise your news feed. Follow trending topics