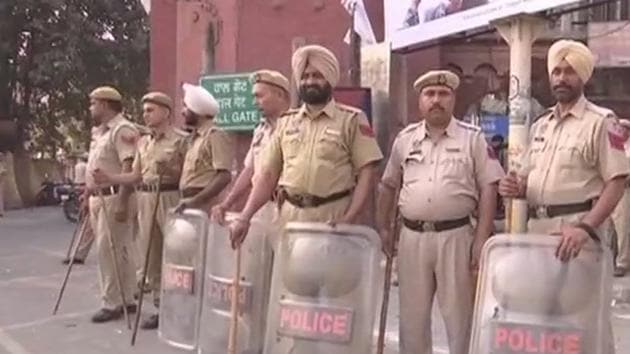 Bharat bandh: Security upped across Punjab; 4,500 cops on toes in Chandigarh, Panchkula, Mohali
Internet services suspended, educational institutes closed in Mohali; high alert in Chandigarh, Panchkula too.
UPDATED ON APR 02, 2018 09:48 AM IST
Around 4,500 cops will keep vigil in the tricity on Monday to prevent any untoward incident during the nationwide shutdown called by several Dalit groups against the alleged dilution of the Scheduled Castes/Scheduled Tribes (Prevention of Atrocities) Act.
With the Punjab government taking various preventive steps, Mohali will be turned into a virtual fortress with 1,500 cops on the ground and 27 nakas set up at its entry points. Internet services have already been suspended in the district, even as mobile connectivity was operational. Schools and colleges have also be closed on Monday.
Even as basic services have not been suspended in Chandigarh and Panchkula, police and civil administration are on high alert in these cities as well.
Passengers will also face inconvenience as public transportation has been shut down in Punjab. While PRTC buses will not be plying from the Mohali bus stand, CTU buses too will not go to Mohali and other parts of Punjab, said CTU director Amit Talwar.
'No need to panic'
Mohali deputy commissioner Gurpreet Kaur Sapra said there is no need to panic. Ten duty magistrates will coordinate with police to deal with any law and order situation. "I also request people not to pay heed to rumours. They should immediately inform police or administrative officials if they find anything suspicious," she said.
Sapra said internet services have already been suspended. Senior officials will review the suspension on Monday evening, she said.
Exam centres to remain open
Sapra said in compliance with the Punjab government orders, schools and colleges have been shut down in Mohali on Monday. She, however, clarified exemption has been given to board exam centres and adequate security will be provide there.
Mohali senior superintendent of police (SSP) Kuldeep Chahal said according to intelligence reports there is no threat perception in Mohali. However, police are prepared to deal with any eventuality, he said. "We can even call army in case situation goes out of control," he said.
'Promise of peaceful protests'
Meanwhile, 2,000 cops will be on duty in Chandigarh and 1,000 in Panchkula on Monday. UT home secretary Anurag Aggarwal said the administration has decided not to suspend internet services or close schools and colleges, but adequate arrangements have been made in the wake of nationwide protests.
"Heavy police force has been deployed and army has been informed to be on standby. We are holding talks with the organisers, who have assured us the protests will remain peaceful," he said. According to sources, protests are expected at Sectors 20 and 52, Batra Chowk, Ram Darbar, Dadumajra and Dhanas in Chandigarh.
Panchkula officiating deputy commissioner Mukul Kumar said police and administrative officials held a meeting to take stock of the situation. "We are prepared to deal with any kind of law and order situation," he said.
Close