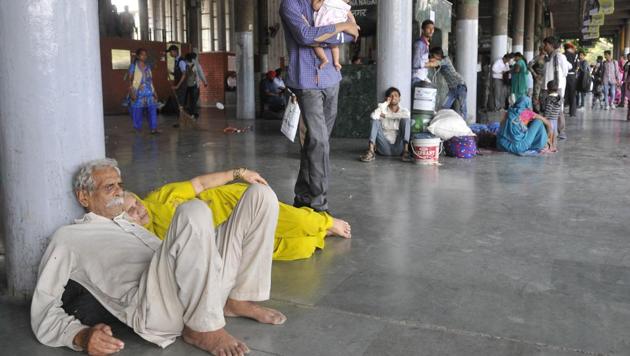 Bharat Bandh: Trains, buses cancelled, cabs in Chandigarh mint money on intercity trips
As thousands of policemen were deployed and several nakas set up, protests were organised in Lalru, Banur, Kharar, Dera Bassi and Kurali by the members of SC/ST organisations.
Hindustan Times, Chandigarh | By HT Correspondents
, Chandigarh
UPDATED ON APR 03, 2018 11:17 AM IST
No violence was reported in the tricity during the Bharat Bandh called by the Dalit community to protest against dilution of the SC/ST Prevention of Atrocities Act, but the city remained virtually cut off from Delhi, Haryana and Punjab with trains and inter-state bus services cancelled and mobile internet services were blocked. Taxis and autos making hay too harried commuters attempted to get to work on Monday and others tried to leave the city.
As thousands of policemen were deployed and several nakas set up, protests were organised in Lalru, Banur, Kharar, Dera Bassi and Kurali by the members of SC/ST organisations.
Heavy traffic jams were also witnessed from Zirakpur to Hallomajra Chowk from where the vehicles were diverted.
Six trains were cancelled and out of the 600 long route buses only 43 operated. Chandigarh Transport Union buses (CTU) too ran in the city but these did not venture out to neighbouring Panchkula and Mohali.
The six trains that were cancelled were the Amritsar-Chandigarh Express 12412, Amritsar-Nangaldam 14505, Amritsar-Jaynagar Express 14650, New Delhi Amrtitsar Shatabdi Express 12013, Amritsar New Delhi Shatabdi Express 12014, Jaipur-Chandigarh 19717/19718.
The Kalka-Ambala Shuttle waited for an hour at the Chandigarh Railway Station, which had long queues from morning to late evening at the booking counters. The Paschim Express 12925 had a 90-minute wait at Haryana and even the Chandigarh-Jaipur intercity was delayed for more than hour, to be short-terminated later.
A number of railway passengers complained on social media about the delays.
One of the passengers, Rohit Kansra, said, "Train 12411 stopped at Lal Kallan station near Ludhiana and an announcement was made later that it was cancelled. As roads were blocked, people were advised to go back to Mohali or Chandigarh. We faced a lot of problems."
Passengers also remained stranded at the Sector 17 Inter-State Bus Terminus as just 43 buses operated out of 600 long route buses to Punjab, Haryana, Delhi and other cities. Punjab Road Transport Corporation (PRTC) buses too did not operate from the Mohali Bus Stand.
Even the much-popular Volvo service was hit badly as just 10 out of 40 buses left for Delhi and other cities. Services, however, resumed after 5 pm on Monday.
Meanwhile, cab drivers travelling between Chandigarh and Delhi made a killing, charging Rs 3,800 to Rs 3,900 for a one-way Chandigarh-Delhi trip that otherwise costs just Rs 2,500 to Rs 2,700.
As mobile internet services remained suspended in Mohali and Zirakpur; locals were unable to book cabs to commute to work, as a result of which auto-rickshaws did brisk business. Many radio taxis in Mohali too had problems locating passengers .
Zirakpur resident Ashok Kumar, who works at a private firm in Mohali, said, "I faced a lot of problems today to reach work. Also, as internet services were suspended, I was unable to book a cab. Finally I had to hire an auto to reach Chandigarh from where I booked a cab for Mohali.''
Manpreet Bharaj, a doctor working in Mohali, said, she had booked a cab through her sister in Panchkula, but the driver was unable to trace her location as his internet was not working. "I had to hire an auto-rickshaw and shell out more to reach home,'' she said.
Ashish Kansal, a local resident, said, ''My relatives had come to the city to consult a doctor in Mohali, but we faced problems as bus services were suspended and we had to take auto-rickshaws that were asking for high fares."
Ankit Sharma, a Mohali resident said, ''I had to take leave from work as there was no transport facility here in the city. I work at IT park, but it was difficult to commute without a bus.''
Close