Blue Whale case? Panchkula youth jumps off roof, critical
Updated on Sep 03, 2017 10:12 AM IST
Family says 20-yr-old fond of challenging online games, doctors confirm presence of cuts on body.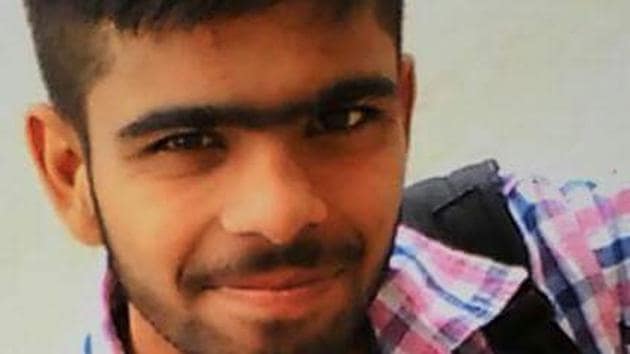 Hindustan Times, Chandigarh |
, Chandigarh
Shub Karman Dhaliwal
Vaibhav Dev (20), a third-year BCom student at a Banur college, is suspected to be the first victim of the online game Blue Whale Challenge in the tricity.
Vaibhav, a resident of Sector 19, Panchkula, jumped off the third floor of his house on Friday morning. He is admitted to the intensive care unit (ICU) of Government Medical College and Hospital (GMCH), Sector 32. He studies at Goswami Ganesh Dutta Sanatab Dharam College in Banur.
Victim's uncle Rajinder Kumar said he took the extreme step around 11:30am, when he was alone on the roof.
He has suffered factures in his right leg, left arm and right side of his head.
"Vaibhav has cuts around his neck and also on his arms," said Kumar. Doctors at GMCH-32, too, confirmed the presence of cuts on the victim's body, pointing to the possibility of the youth falling prey to the fatal online game.
Vaibhav's cousin Aastha Arora, who was at hospital, said he was talking to his friends about "flying in a day or two" couple of days ago.
"He is fond of online gaming," said Aastha. "He used to be intrigued by the games that had different level of challenges. We suspect he fell prey to the Blue Whale Challenge."
On the basis of the family's statement, the Panchkula police have started probe. No case has been registered yet.
The fatal game
The Blue Whale Challenge requires participants to complete a number of tasks within a 50-day period. The tasks become increasingly harmful through self-mutilation, and the final step is suicide. While details of how the game is accessed is unclear, social media trends indicate the role of an online pressure group that gets in touch with targets, giving them the challenges and monitoring 'progress'.
Personalise your news feed. Follow trending topics