Bumper paddy yield cheers up beleaguered farmers
Updated on Nov 16, 2015 08:10 PM IST
There is good news for farmers of Punjab who were hit by crop failure in the previous kharif and rabi seasons.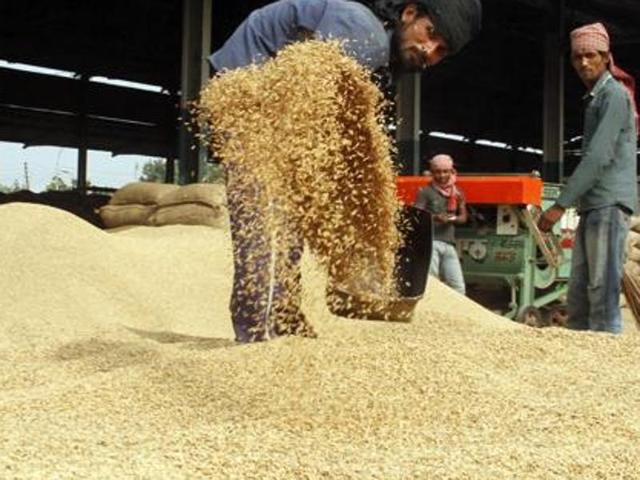 There is good news for farmers of Punjab who were hit by crop failure in the previous kharif and rabi seasons. Paddy procurement for the central pool has touched 135 lakh tonnes, among the highest in recent years, even as crop arrivals are continuing in mandis across the state. About 10 lakh tonnes of paddy is awaiting procurement in mandis.
Till November 15 last year, about 115 lakh tonnes of paddy had been procured, while the total procurement was 118 lakh tonnes.
State farmers' commission consultant PS Rangi said, "It was in 1996 when paddy procurement touched an all-time high of more than 150 lakh tonnes and Punjab contributed 100 lakh tonnes to the central pool. Farmers have suffered a lot due to the failure of cotton, potato, wheat, maize and sugarcane crops, but paddy has given them a reason to smile." He added that though it was a drought-hit kharif season, input costs had come down due to regular supply of power to farmers and they didn't have to use diesel to run tubewells.
As per an estimate by the commission, the per-acre yield has touched 35-36 quintals, which means a gross income of Rs 50,000 for the farmer. Farmers are being offered an minimum support price (MSP) of Rs 1,450 per quintal for paddy.
Commissioner, agriculture, Balwinder Singh Sidhu said it was indeed good news for farmers who had witnessed repeated crop failure since the past year.
Sidhu added that the paddy arrivals had considerable quantity of basmati varieties which failed to fetch a good price in the open market and were purchased along with coarse-variety paddy at the MSP. Of the 28 lakh hectares under paddy cultivation this season, 8 lakh were under basmati.
The total arrivals include 10-12 lakh tonnes of basmati, especially the 1509 variety. This season, the 1509 variety could not fetch more than Rs 1,000 per quintal, even though in previous crop seasons, the prices had touched Rs 3,500-4,000 per quintal.
"Due to drought across the country, paddy production has considerably gone down, but Punjab has managed a good yield. The state continues to play an important role in the country's food security," said Rangi.
Figures that matter
135 lakh tonnes Paddy procured for central pool this season (till November 15)
115 lakh tonnes Procurement till corresponding date last season
150 lakh tonnes Procurement in 1996 season (all-time high)
Personalise your news feed. Follow trending topics