Condolences pour in over Nirankari sect head's death
May 13, 2016 07:47 PM IST
The news of the death of Baba Hardev Singh, the head of Sant Nirankari Mission, in a car accident in Canada's Montreal at around 5am on Friday came as a shock to everyone
The news of death of the head of Sant Nirankari Mission Baba Hardev Singh came as a shock to people across Punjab. Not only the followers of the sect, every body expressed shock over the untimely death of the spiritual leader, who met with a car accident in Canada's Montreal at around 5am on Friday.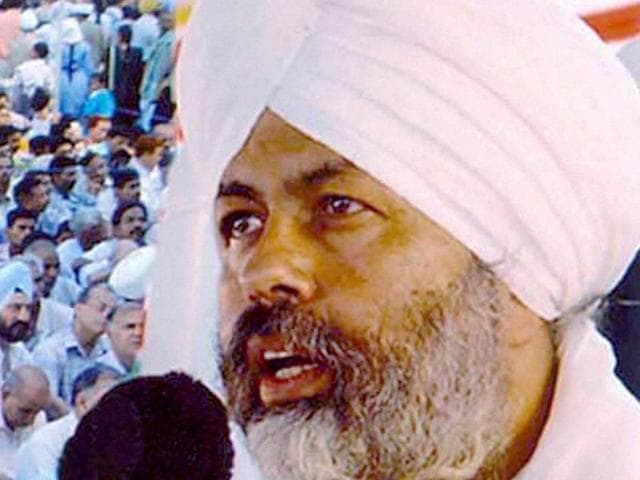 As efforts were being made to bring his mortal remains to the Nirankari headquarter in New Delhi, a large number of devotees thronged sect's Punjab headquarter in Amritsar.
Assistant public relations officer (APRO) of Sant Nirankari Mandal branch in Amritsar Paramjit Moman said, "We are extremely saddened that Hardev Singh has left us . It is a huge loss for the devotees. We all are shattered with the news."
He said as soon as the news broke, devotees started pouring in at the bhawan in Amritsar. "Many were keen to leave for Delhi and were requested to stay back and pray for his soul," he said.
He requested the followers to stay back in their respective cities. "Let us sit together at the local bhawans and pray for the departed soul," he said.
Punjab Pradesh Congress Committee (PPCC) president Capt Amarinder Singh also mourned the untimely death of Baba Hardev Singh. He said, "I am deeply saddened and shocked to learn about the untimely demise of Sant Baba Hardev Singh Ji. It is a great loss not only to the Nirankari followers, but to the humanity as a whole as he was a great spiritual leader of our time." He further said the spiritual void created by this death would be very difficult to be filled. "I personally share the grief of the family and followers over this great loss," he added. Earlier in the day, he had tweeted
Meanwhile, Prime Minister Narendra Modi took to twitter saying, "Baba Hardev Singh's demise is tragic and a great loss to the spiritual world. My thoughts are with his countless followers in this sad time."
Congress president Sonia Gandhi also expressed shock and grief over Baba's death and offered condolences to all his followers. "Spiritual values of equality and simplicity perpetuated by him and the Nirankari Samaj will forever remain relevant," she said.
Home minister Rajnath Singh said he was deeply pained to learn of the demise. "He was a not only a spiritual leader but also a social reformer," Rajnath Singh said in a tweet.
Railway minister Suresh Prabhu and BJP leader Shahnawaz Hussain also condoled the death of the spiritual leader.
(With agency inputs)
Read: Nirankari spiritual head Hardev Singh dies in road accident in Canada