Couple dies after fire breaks out at beer bar in Doraha near Ludhiana
The two were guests at the restaurant and had booked a room there; no other employee was present at the time of incident.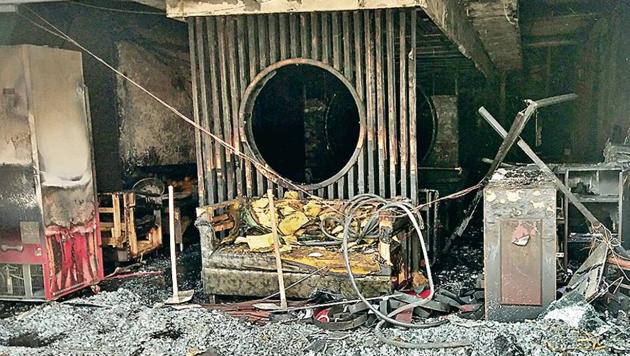 Updated on Oct 08, 2018 09:06 AM IST
A young couple that availed a room on rent at a beer-cum-restaurant on National Highway 1 in Doraha died of suspected asphyxia after fire broke out in the building in the wee hours of Monday.
The deceased have been identified as Daljinder Singh, 25, of Dhamot Kalan of Payal tehsil and Kulwinder Kaur, 22, of Beejapur Kothey village of Khanna. No other employee of the restaurant was present in the building at the time of the incident.
The manager of Touch Restaurant and Beer Bar, Manjeet Singh said he came to know about the fire at around 2am when his watchman rang him up. He said that he immediately alerted the fire brigade and went to the spot.
"The flames started from the ground floor and then engulfed the entire three-storeyed building. When I reached the spot, the whole building was engulfed in the flames," said the manager.
"After the flames were doused, the firefighters found the bodies of a man and a woman in a room. The couple had introduced themselves as husband and wife and also deposited their identification cards at the counter. They had said they were heading to Amritsar," the manager added.
Fire brigade called from Samrala, Khanna
Meanwhile, the fire brigade had to be called in from Khanna and Samrala as Doraha doesn't have a fire brigade of its own.
Yashpal Rai, the fire officer, said when they reached the spot, the flames had already engulfed the entire building. "It took us around an hour to douse the flames," he added.
Restaurant owner Sonu Cheema said the whole building, including the furniture and all things inside, were completely destroyed by the fire.
Fire spread due to alcohol present inside
Though the exact cause of the fire is yet to be ascertained, fire officials say it is suspected to be due to short-circuit. The fire officer said the fire spread more due to the alcohol stored in the bar-cum-restaurant.
He further added that there were no burn injuries on the bodies, which suggests that they probably died of asphyxia.
Bodies sent for post-mortem
Superintendent of police (SP) Balwinder Singh Bhikhi said police have sent the bodies to Ludhiana civil hospital for postmortem and also informed the families of the deceased.
He added that inquest proceedings under Section 174 of the CrPC have been initiated.
The SP further said they are investigating the matter at their own. If any discrepancy is found at the owner's end, the police will take appropriate action against him.
Close Story