Dera paper compares Baba Ram Rahim to Jesus
Updated on Aug 26, 2017 02:18 PM IST
Hails him as the blazing sun of truth; claims violence by anti-social forces; hints at a legal remedy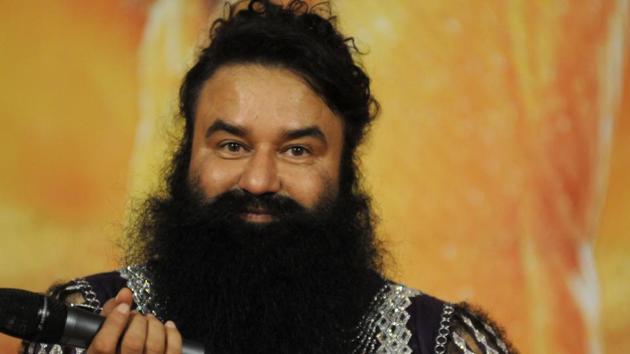 A day after Gurmeet Ram Rahim Singh's conviction in a rape case, Dera Sacha Sauda's mouthpiece, 'Sach Kahoon', hailed him as a 'blazing sun of truth', and sought to blame the violent aftermath on anti-social elements masquerading as dera followers.
The 12-page newspaper, which is widely circulated among the premis, as the followers call themselves, compared the baba to Jesus Christ and a long line of religious icons down the ages who had been prosecuted. "Kabir, Meera and even Jesus Christ were ill-treated during their time but people never stopped following their Gurus or their teachings," declared the front-page editorial.
Painting a very different picture of Friday's court proceedings, which found Ram Rahim guilty of rape, the editorial paid glowing tributes to him, saying "Pujya Sant ka sach ka surya chamakta rahega" (The blazing sun of truth will keep shining). The people rattled by Rahim's social work, have hatched this conspiracy out of sheer jealousy, claimed the editorial.
"The hatred lovers may have been successful after the verdict but the conspiracy hatched by them will be busted soon," it declared. Hinting at a turnaround, it states, "The truth doesn't need any explanation. We still have legal remedies to the verdict pronounced against Gurmeet Ram Rahim."
While all other media organisations and the authorities have blamed the dera supporters for the violence, Rahim's mouthpiece tries to whitewash its role in the arson by blaming anti-social forces.
The news report, which put the number of dead premis at 20, states, "It was heard that the 'swayamsevaks', resorted to violence on Friday, in order to defame the dera followers. The violence was not perpetrated by the dera followers, gathered there," it sought to clarify.
The newspaper in Hindi and Punjabi publishes seven editions for its followers in Punjab, Haryana, Delhi, Uttar Pradesh, Uttaranchal and Rajasthan.
Appeal for peace
Ironically, a day after Dera supporters wreaked havoc on Panchkula, Sach Kahoon carried a half-page public appeal for peace by none other than Ram Rahim himself. The appeal asks people to remain peace and not take law in their hands. The appeal claims that the people who have caused mayhem in Panchkula and destroyed the public property or have caused harm to the government and private buildings, cannot be dera followers, and it is the anti-national forces, which led to violence.
Personalise your news feed. Follow trending topics