'Good teachers key to career-ready kids'
Published on Sep 12, 2018 12:17 PM IST
Representatives of educational institutions across the tricity spoke on the dilemmas faced by schools in this fast-changing world, during the Principal-Coordinator Meet organised by Hindustan Times at Hotel Mountview.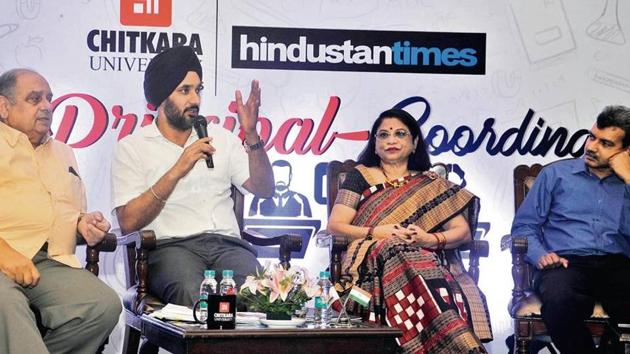 There is a new trend emerging among students these days. They want to be 'solo-preneurs'.
"Students do not want to be employed, rather they want to employ others," said Madhu Chitkara, co-founder of Chitkara Education Trust.
Chitkara was among the many representatives of educational institutions across the tricity who spoke on the dilemmas faced by schools in this fast-changing world, during the Principal-Coordinator Meet organised by Hindustan Times at Hotel Mountview in Sector 10 on Tuesday.
Chitkara was joined by Chandigarh director of school education Rubinderjit Singh Brar, Independent School Association president HS Mamik and Bulls Eye founder Hirdesh Madan, for discussion on the topic 'Is India's education system making children career-ready'. The discussion was moderated by HT's senior assistant editor Manraj Grewal Sharma.
'All connected to primary education'
The discussion started by putting a spotlight on the alarming rate of unemployment, wherein it was stated that over 60% of engineers were found unemployable in 2017, while one out of two MBAs could not get a job.
On these figures, Madhu said, "For employment, we have to oversee 'P to P' that is 'Primary to PhD'. The issue is that the industry of schools is colleges, that of colleges is university, and that of university is employment. And all of this is connected to primary education. "
In his reply to a question on the colonial traces in the current mode of education in which rote learning is promoted and creativity is ignored, HS Mamik said, "The issue is that what we teach in schools is strictly controlled by board examinations. A child is told at a very young age that he has to score 90% marks. Unless this changes, our hands are tied."
Rubinderjit Singh Brar shared his thoughts on the role of government, and said, "The government deals with a large number of students and is doing its best to ensure that the fault lines are covered. However, it also depends on schoolteachers and parents."
Spotlight on tutors, programmes
The panellists agreed that committed schoolteachers held the key to unlocking the potential of students. Unfortunately, the profession is not attracting the best talent. And people who found themselves without a job are opting for this profession.
"While the government pays very handsomely, teachers in the private sector earn less than a government peon," remarked Brar.
Meanwhile, both Mamik and Chitkara underlined that they made special efforts to train their teachers. A teacher, Chitkara emphasised, must have the passion to teach in order to make a difference in the lives of his/her students.
Hirdesh Madan said private coaching institutes have the best teachers because they are hired based on skill set and their ability to teach. "Last year, when we were hiring an English teacher, we rejected a PhD holder for a private college engineering graduate because that graduate performed better in the demo class. Private institutes are free to hire people based on their skills irrespective of age or degree, but it is not the case with government schools," Madan said.
Upon that, Brar added that government teachers are appointed after a complex system of written tests which acts as a limiting factor. He remarked, "In fact, I am so occupied in tackling the teachers that I have no time left for students."
Delhi Public School principal Reema Dewan emphasised the importance of continually training the teachers. "We send our teachers for workshops and I can see the difference. They come back recharged," she said.
During the meet, Niyati Chitkara, principal of Chitkara International School, delivered an interesting presentation on the crucial aspects of training teachers for Gen Z, the children born after 2010. "They are great with technology, they can't sit still for a moment, how do you teach them?" she said, highlighting the roles and responsibilities of 'alpha teachers'.
Hirdesh Madan shared the success story of Bulls Eye, which coaches aspirants for a wide range of competitive exams. Kores stationery's John Samuel also gave a presentation in which he dwelt on the importance of creativity as well as stationery workshop in schools.
Close Story
Personalise your news feed. Follow trending topics