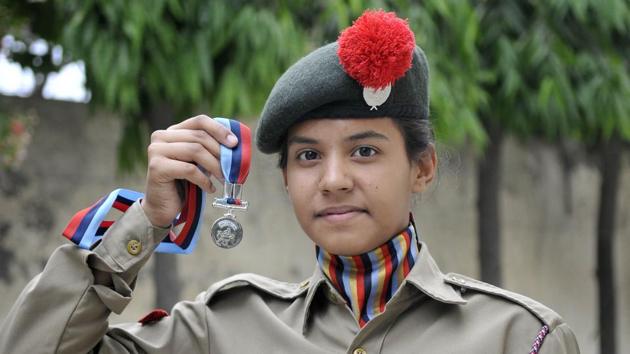 NCC star Ashanya Singh from Ludhiana makes it to Top 30 Under 30
In the run-up to its sixth edition of Top 30 under 30, Hindustan Times profiles 30 young achievers who will be felicitated at its flagship event on May 26. They are from fields ranging from the forces, academics and art to entertainment and sports. Among them is Ashanya Singh .
Hindustan Times | By HT Correspondent
UPDATED ON MAY 25, 2017 06:00 PM IST
She dreams big: Ashanya Singh, 14, Ludhiana
This Ludhiana girl shot to national limelight when she was declared the best NCC cadet in India and was honoured by none other than Prime Minister Narendra Modi.
Secret sauce: The dream big attitude. "I never lose heart even if am rejected as I think I am only being redirected to something better, a step closer to my goal." Attitude, she says, is everything, citing the difference in reaction of schoolchildren to the same school bell in the morning and at noon.
Inspiration: "My NCC seniors became my inspiration as they had also won several honours at the Republic Day camps." Known for her high-octane energy, Ashanya was also inspired by all those well-wishers who egged her on to join the NCC to expend her energy.
Challenges facing India: The biggest challenge faced by this region, she says, is drug abuse which is increasing day by day. Reservations based on caste are also the bane of India, says Ashanya."This is one of the root causes of several problems, including drugs. Youngsters do not get jobs due to reservation, which forces them to either look abroad or take to drugs in frustration."
Uplifting feature: "For me, India is like heaven. The most uplifting thing about it is its mind-boggling diversity. Every corner of our country has something new to show, be it in the field of culture, technology, science or religion."
The road ahead: "I want to serve my nation just as Dr. A.P.J Abdul Kalam did by way of science."
As an agent of change: "I can be an agent of change by changing myself into what I want the world to be so that I can set an example for others."
By the way: Ashanya is very good at singing and playing guitar. She is also a district-level football player, and has received many prizes for her paintings and distinguished performance in Olympiads.
To know about the other achievers Click here
Close