Immigration agent's jibe on FB Live angers Kiwi-Punjabis: 'We are not goat grazers!'
The agent had said, "New Zeland jaake karna ki e? Bakriyaan chaarde e log othe jaa ke! (What will you do by going to NZ? People there only raise and graze goats!)"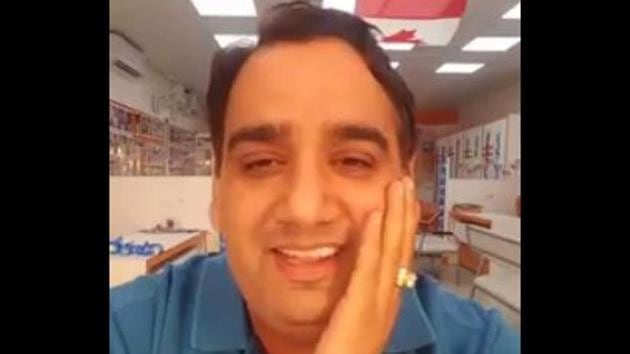 Updated on Oct 27, 2017 08:08 PM IST
Hindustan Times, Faridkot |
Gagandeep Jassowal
Punjabis in New Zealand are angry, and they are displaying their emotions by showing off their cars, houses and what not! This was triggered by an immigration agent's casual comment during an interactive session on Facebook Live that is now going viral.
In the undated video uploaded last Saturday on a Facebook page about immigration — nearly 1 lakh views till Friday — Vinay Hari, who runs a firm with offices in multiple towns of Punjab, responds to question with: "New Zealand jaa ke karna ki ae? Bakriyaan chaarde ae log othe jaa ke! (What will you do by going to NZ? People there only raise and graze goats!)"
He then jokes that "against a population of 40 lakh people" — the number is closer to 50 lakh — "they (NZ) have 40 crore sheep and goats". As per a figure in 2007, there were indeed 39 million (3.9 crore) sheep in New Zealand and wool is its major export. "Each person gets about 20," Hari smiles, adding, "Even those who've migrated there before are doing that, raising goats!"
In the 41-second clip, he then adds cautiously, "Please don't abuse me if you are already in NZ! I am here for you. If you are there and facing any pain or difficulty getting permanent residency or need work permit renewed, you are most welcome. I am here for you. I have reviewed three-four applications of people who were deported from there and have even then got visa for Canada."
But the damage was done. NZ immigrants, mainly those on student visas from Punjab, have since posted scores of videos showing off their lifestyles there and proving they are not "goat grazers". Many have been calling Hari's office with abusive messages, and put up the recordings on Facebook.
Amrit Sidhu, a New Zealand-based transporter, said, "This is a joke about the community, but when this country offers visas they say New Zealand is heaven. These agents have just one agenda: making money."
Another FB user Jaskaran Dhaliwal said, "We have struggled to achieve success in life, and now these agents making fun of us! Even if one has wool business in New Zealand — or is feeding goats and sheep — what is wrong in that? He has no right to make fun of that."
Hari did not respond to repeated calls, nor was the video found on his FB profile or pages now.
Close Story