J&K sex scandal accused plead for reduced sentence
Sentencing in the case is expected on June 6.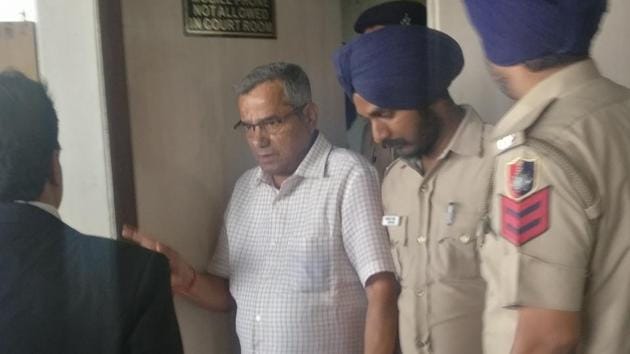 Updated on Jun 05, 2018 02:58 PM IST
These men have children of their own, some much older than the Kashmiri minors they have been accused of exploiting in a 2006 sex scandal.
Five of the accused in a case involving a CD recovered by the Jammu and Kashmir police showing sexual exploitation of minors forced into prostitution, appeared before a special CBI court on Monday pleading for reduced sentence. They included former DIG of BSF KS Padhi, former DSP Mohammad Ashraf Mir and three others from J&K , Shabbir Ahmed Laway, Shabbir Ahmed Langoo and Masud Ahmed.
The prosecution has sought maximum punishment of life term for them while the defence counsel has asked for seven years. Sentencing in the case is expected on June 6.
Masud's three-year-old daughter was seen playing in the courtroom where one of Padhi's two married daughters were also present. Langoo has three minor daughters.
Pointing to the long duration of the trial defence counsel Rabindra Pandit said that moving the case to Chandigarh, 1,500 km away from J&K, made the process all the more tedious for the convicts. "The agony that the convicts underwent in this time. They lost their jobs, mobility and travel also cost extra, hence adding to their troubles," he said.
Dismissing arguments about the victim being mentally capable of understanding what she was doing, the public prosecutor KP Singh said such a contention was "a mockery" and "most unfortunate." While Langoo's statement was being recorded, it was argued that the victim couldn't even recall how many men she had slept with.
The victim's age was also mentioned as Pandit argued that she was a major and not minor when the incident happened.
'DIG should have been protector, not attacker'
KC Padhi, former DIG BSF, aged 68, pleaded for leniency,saying he had served the nation, claiming that he had killed 40 militants while posted in Kashmir and had also been recommended for the President's medal.
His wife, Padhi's counsel said, had expired during the trial and his name had also not been mentioned in the original FIR initially.
Countering the argument, the public prosecutor said Padhi's position as DIG should have been the mitigating factor, not an aggravating one and that he should have been the protector instead of the attacker.
Close Story