Kenyan ran drug racket from Nabha jail in nexus with Nigerian smuggler: Cops
Updated on Jan 30, 2018 12:37 PM IST
Kenyan inmate Ushta Ugvona was the link between smugglers in the jail and drug suppliers in Delhi.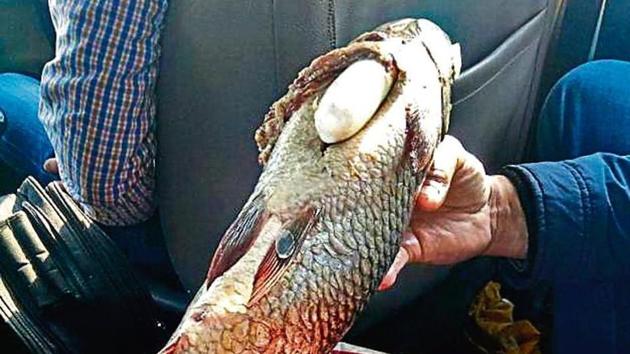 Investigations by the counter-intelligence wing of Punjab Police have revealed that a Kenyan national was running the drug racket through dead fish from the Nabha jail in connivance with Nigerian drug peddler Michael.
On the basis of the revelations made by Michael and Raja Singh alias Raju, who had been in the Nabha jail for the past several months, police have found out that Kenyan inmate, identified as Ushta Ugvona, was the link between smugglers in the jail and drug suppliers in Delhi.
The counter-intelligence wing will seek Ugvona's remand for further investigations.
Ugvona has been lodged in Nabha jail since March 25 last year in a case registered by the Mohali police under the Narcotic Drugs and Psychotropic Substances (NDPS) Act. Ugvona, who had links with smugglers in the Delhi, came in Michael's contact and decided to smuggle drugs through dead fish.
The racket surfaced after Uganda-based woman, Rogget Namotabi, 22, was held with 1.5-kg heroin concealed in dead fish on the Jagraon-Moga highway on January 22. Namotabi, a resident of Uttam Nagar, Delhi, had come to India in March 2017, on a medical visa.
Following her arrest, police brought Michael and Raja Singh on five-day police remand on January 26. Investigations have now revealed that Ugvona was in link with drug smugglers who supplied drugs to Namotabi and another woman, Manpreet, of Delhi.
These women later delivered the drugs, packed in dead fish, to their contacts in Punjab, travelling by bus from Delhi. It was Namotabi's third trip to Ludhiana to sell drugs concealed in fish bodies when she was arrested by the police. Each fish, packed in a box, carried five drug capsules. The drug was packed in special capsules of 50-gm each.
Police said they are conducting raids to nab the main drug supplier and Manpreet. A member of this gang was arrested with 100gm heroin from Uttam Nagar on January 25. "The investigations are on. The accused are in police custody till Tuesday. We got some important inputs from Michael and Raju to reach out to main drug smuggler of the gang," additional inspector general (AIG) Harkamalpreet Singh Khakh said.
He said they would seek Ugvona'a remand to reach the main supplier, who was supplying drugs to Namotabi for sale.