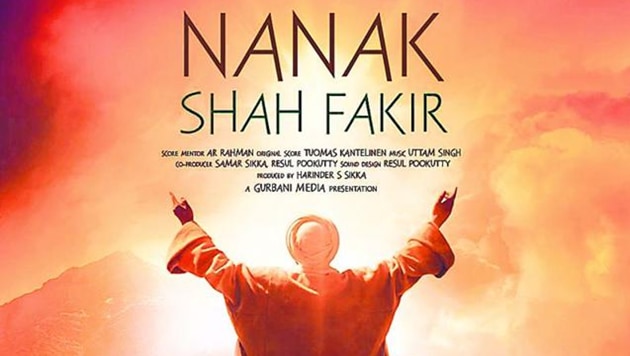 Nanak Shah Fakir row: Sikh groups in Punjab, Haryana protest against movie's release
Burn effigy of producer in Jalandhar, stop goods train at Sirhind railway station
Hindustan Times, Chandigarh | By PTI and HTC
UPDATED ON APR 13, 2018 08:46 PM IST
Sikh groups in Punjab and Haryana on Friday staged protests against the release of controversial movie "Nanak Shah Fakir", which is based on the life and teachings of Sikhism's founder Guru Nanak.
The film was released on Friday. In Sirhind, protesters stopped a goods train for around 30 minutes, railway officials said. The blockade was lifted following the intervention of the Government Railway Police (GRP) and the local police.
The protesters said the jathedar of Akal Takht, the supreme temporal seat of Sikhs, had already appealed to the community to boycott the film and stage peaceful protests. The protest is not for harassing anybody, they said.
The Takht had imposed a ban on the release of the movie after it contended that showing Sikh gurus in living form cannot be permitted.
Shiromani Gurdwara Parbandhak Committee-run local education institutes remained closed on Friday to protest against the movie.
There were also reports of protests by Sikhs in Jalandhar. After holding protest at Jyoti Chowk, members of Sikh Dal Mel Committee burnt an effigy of the film's producer Harinder Sikka. Protest against the movie was also staged at Ferozepur.
In Ludhiana, protesters blocked traffic on Link Road near Atam Park for 30 minutes. Members of the Youth Akali Dal also staged a protest by wearing black turbans. The protesters said the movie should be banned across the country.
In Haryana, Sikhs protested against the movie at several places, including Sirsa, Karnal, Yamunanagar and Kurukshetra.
The Akal Takht on Thursday ex-communicated Sikka from the Sikh Panth.
The SGPC, the apex religious body of Sikhs, had appealed members of the community to wear black turbans on Friday as a mark of protest.
On April 10, the Supreme Court had criticised SGPC for imposing restrictions on the film 'Nanak Shah Fakir' and cleared the decks for its nationwide release on April 13.
Petitioner Sikka, a retired naval officer and the film's producer, had approached the apex court claiming that the SGPC had recently banned the release of the movie, which is based on the life and teachings Guru Nanak, even after the CBFC cleared it on March 28.
In 2015, the producers of the film had decided to withdraw the movie from cinema halls across the country and other parts of the world after protests from religious Sikh groups.
A month ago, the producers again announced the movie's release for April 13 after which various Sikh outfits started raising objections seeking a ban on the grounds that depiction of Sikh gurus and other historic Sikh figures in films is considered blasphemous.
(With inputs from Jalandhar, Ludhiana and Patiala)
Close