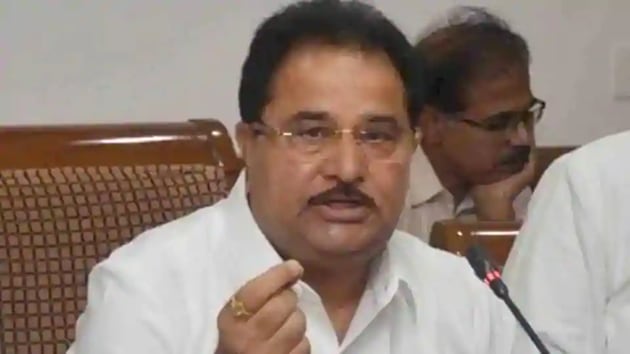 No rethink on regularisation of contractual teachers: OP Soni
The minister said the cabinet had approved the regularisation of their services only after the teacher unions agreed, but they have now gone back on their word.
UPDATED ON OCT 09, 2018 10:23 PM IST
Punjab education minister Om Parkash Soni on Tuesday said there will be no 'rethink' on regularisation of the services of 8,886 teachers engaged under the Sarva Shiksha Abhiyan (SSA), Rashtriya Madhyamik Shiksha Abhiyan (RMSA) and the Adarsh Model Schools programme.
The minister said the cabinet had approved the regularisation of their services only after the teacher unions agreed, but they have now gone back on their word. "Contractual teachers are being instigated, but we will not let them disrupt the classes. They can hold protest on holidays and after school hours, but not during school hours. There will be no work, no pay," he said, warning of stringent action. The school education department had on Monday night placed five protesting teachers under suspension with immediate effect.
Last week, the cabinet approved the regularisation proposal with the condition that they would be paid ₹10,300 per month (initial of the regular pay scale) along with a monthly allowance of ₹5,000 for three years, and their services will be regularised on completion of three years. These teachers have been getting ₹35,000 or more for the past many years and are up in arms against the decision.
Soni said contractual teachers were being paid under these programmes with the Centre contributing 60% for their salary, but it slashed its contribution. "If these teachers want regularisation of their service, they will have to abide by these conditions as these are applicable to other services also. It is their choice," he said.
AAP wants decision withdrawn
The Aam Aadmi Party (AAP) hit out at the Congress government for slashing the salary of contractual teachers by 65 to 70%. Demanding immediate rollback of the decision, leader of opposition Harpal Singh Cheema and AAP legislature party deputy leader Sarbjit Kaur Manuke said they should be given regular jobs under the school education department without any conditions.
The two AAP leaders asked the state government to make public details of data shared in the state cabinet meeting regarding consent given by 94% teachers to the proposal. "Teacher union leaders are saying this data is false and unreliable. We want action against officials who have prepared this fake information," they said.
The party proposes to send a delegation to the governor in case the government fails to withdraw the decision that amounts to "gross injustice" with teachers who have been working for the past 10 years. It also flayed action against the protesting teachers who have been fighting for their rights by staging a peaceful protest.
Suspension can't deter us, say teachers
A day after five teachers were suspended by state education department, the teachers under the banner of Sanjha Adhyapak Morcha (SAM) continued their protest and fast unto death for the third consecutive day.
The suspended teachers — Hardeep Singh Toderpur, Harvinder Singh, Bharat Kumar, Didar Singh Mudki and Harjit Singh — are among those sitting on the fast against state cabinet's decision of giving them ₹15,000 salary after regularising their jobs.
Davinder Singh Punia, SAM's convener, said the state government was trying to gag them. "Education minister OP Soni's tactics can't deter us. We are fighting for our genuine demands and will continue fighting till our last breath," he said.
Hardeep Singh Toderpur, co-convener of the morcha, said, "Our struggle would get strength from such moves of the government. It is the authorities, which have forced us to start an indefinite protest."
Meanwhile, member of Parliament from Patiala Dharamvira Gandhi and SAD MLA from Sanaur Harinderpal Singh Chandumajra have extended their support to the teachers."The decision-making body of state government is under scanner as such an autocratic decision has demoralised the teachers, who are the pillars of a literate society," Chandumajra said.
Close