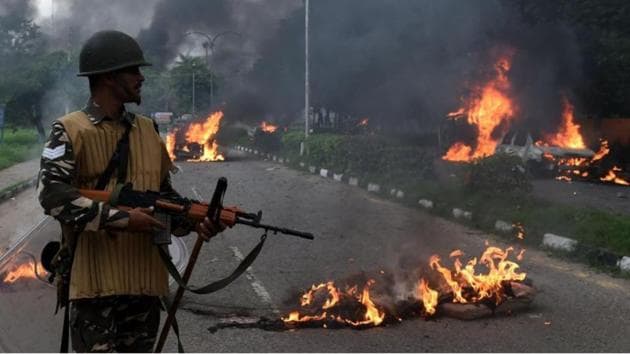 Panchkula violence: Haryana police initiate proceedings to attach Aditya Insan's assets
Insan is the key conspirator of violence by dera followers allegedly to free Ram Rahim, who was convicted and sentenced to 20-year jail for rape of two female disciples on August 25.
Hindustan Times, Chandigarh | By HT Correspondents
UPDATED ON AUG 09, 2018 12:34 PM IST
The Haryana Police have initiated proceedings to attach properties of Aditya Insan, a key aide of jailed Dera Sacha Sauda head Gurmeet Ram Rahim Singh, who is absconding and wanted in Panchkula 2017 violence case.
In a status report filed by Panchkula commissioner of police Charu Bali told the Punjab and Haryana high court that the police had declared him proclaimed offender (PO) on May 21, 2018 and a reward of Rs 5 lakh was announced for providing information about his whereabouts.
However, as no breakthrough could be made, details regarding his properties are being obtained; and proceedings have been initiated to attach his properties, the full bench presided over by justice Surya Kant was told by the Haryana Police on Wednesday during resumed hearing of a public interest litigation (PIL).
The PIL was filed just ahead of August 25 violence to seek direction to authorities to take measures to avoid any untoward incident.
As per the police, Insan is the key conspirator of violence by dera followers allegedly to free Ram Rahim, who was convicted and sentenced to 20-year jail for rape of two female disciples on August 25. As many as 36 persons were killed in Panchkula after Ram Rhaim's conviction.
As per the police, Aditya Insan was seen inciting the crowd to go after security forces during violence.
The bespectacled ophthalmologist has been the most visible face of the dera for the past 20 years, appearing on television debates to defend Ram Rahim. He has been booked under sedition charge, a non-bailable offence that can lead to life imprisonment.
8 of 25 missing persons traced
The court was told that eight of 25 missing persons from the dera premises have been traced so far. Efforts are being made to trace others at religious places, Nam Charcha ghars and other places, the court was informed.
The matter is being probed by anti-human trafficking unit of state. Details of these persons have been shared with all the states. A reward of Rs 50,000 have been announced to those who give information about them, the SIT report says.
No data retrieved from dera hard discs
The court was told that 65 hard discs were seized from dera premises in the combing operation following the violence but nothing can be retrieved from them. Different specialised agencies including Central Bureau of Investigation made efforts to retrieve the data but discs were badly damaged, the SIT has told court.
Some more electronic data storage devices have been recovered and data is being retrieved from these devices, the court was told adding that data will be analysed to get more details about allegations of movement of assets from the dera.
The court was also told that 240 cases were registered in Haryana for violence reported after conviction of the dera head.
Challans have been filed in 207 cases while 1,483 persons have been arrested. For hatching the conspiracy of violence in Panchkula, 39 accused were arrested and challan presented against 33 persons while 10 are still evading arrest including Aditya Insan.
'Ram Rahim not owner of dera properties overseas'
Dera Sacha Sauda head Gurmeet Ram Rahim Singh is not the owner of overseas properties of the dera and real ownership lies with foreign citizens, the dera has told the Enforcement Directorate (ED) probing money laundering allegations against Ram rahim.
The information in this regard was shared by ED during resumed hearing of a hearing on widespread violence reported after conviction of Dera head on August 25, 2017.
Dera has told ED that Ram Rahim and his daughter Charanpreet Kaur and one dera member Gulab Mal are reflecting in the document pertaining to some overseas properties.
Chamanpreet has already been issued a summon to join investigation, the court was told. The department is planning to send the matter to financial intelligence unit to ascertain ownership of dera properties, the court was told.
ED probe has also revealed that dera acquired 293 acre of land through donations from villagers. The power of attorney was executed in three persons who further gifted the land to dera. Any benami transaction in these dealings can be looked into by Benami prohibition unit of the income tax department, the court was told by ED further stating that the probe into illegal financial dealings in dera is still underway.
Meanwhile, the income tax department told the court that it was yet to get documents seized by police to investigate financial dealings of dera. It requested the court to issue direction to police to expedite the matter.
The high court bench on Wednesday said that a three member panel will be set up consisting of academicians from state's medical college in Rohtak to ascertain whether those employed in dera hospital had obtained requite qualification.
Close