Punjab cabinet clears policy to regularise unauthorised colonies built before March 2018
Hindustan Times, Chandigarh |
HT Correspondent
Oct 03, 2018 10:13 PM IST
Stringent action will be taken against colonisers of any illegal colony, which has come up after the cut-off date of March 19, 2018, and also against those who do not apply for regularisation, the cabinet decided.
In a bonanza for colonisers and plot holders in unauthorised colonies, the state cabinet passed the policy for regularisation of the colonies that came up till March 18 this year.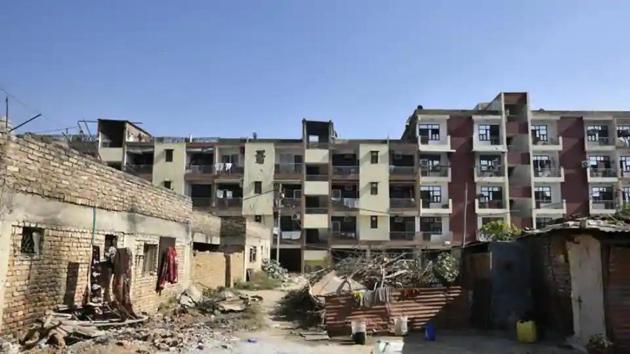 "The move will give an opportunity for regularization to colonisers and residents who have failed to apply for either getting their unauthorized colonies regularised or unauthorised plots and buildings falling in unauthorized colonies compounded under previous policies, or whose application are pending," said the spokesperson.
"Stringent action would be taken against the colonizer of a colony, which comes up after the cut-off date (March 19), and also against those who do not apply for regularisation," he said.
The policy will enable residents living in these colonies to get basic civic amenities like water supply, sewerage, electricity and road connectivity.
8,886 teachers to be regularised
The state cabinet also gave the go-ahead for the regularisation of the services of 8,886 teachers recruited under the Sarv Shiksha Abhiyan (SSA) and the Rashtriya Madhyamik Shiksha Abhiyan (RMSA), as well Adarsh and Model Schools.
Approving the sub-committee's recommendations, the cabinet decided to regularise SSA 7,356 teachers, RMSA 1,194, besides 220 and 116 teachers working at model and Adarsh schools. The committee had recommended that seniority of these teachers be determined from the date of regularisation of their service.
The spokesperson said no fresh recruitment of teachers will be made unless a complete rationalisation of posts in the department is carried out as per norms.
An option may also be given to the teachers or employees in all the above societies to get their services regularised by getting absorbed in the department or continue to work in their respective societies. In case of the latter option, they will continue to draw their current salary, he said.
The cabinet also decided that all future recruitments will be made in central government pay scale.
Bonanza for sportspersons
The cabinet also gave in-principle approval to the Sports Policy-2018, authorising the chief minister to decide on issuing separate guidelines for recruitment under the sports quota.
The cabinet also decided to enhance cash award given to sportspersons in recognition of their outstanding performance at national and international tournaments/championships.
The CM said the state government is will continue with 3% quota in jobs in state government departments, boards, corporations and cooperative/statutory bodies to graded Punjab sportspersons who have represented the state at national level.
The Cabinet also decided to enhance the cash award for Olympic/Paralympics Games medalists from ₹1.01 crore to ₹1.50 crore (silver); ₹51 lakh to ₹1 crore (bronze). The cash award of ₹2.25 crore for gold medalists remains unchanged.
In Asian/Para Asian Games, the cash award of ₹26 lakh has been increased to ₹1 crore for a gold medalist, from ₹16 lakh to ₹75 lakh for a silver medalist and from ₹11 lakh to ₹50 lakh for a bronze medalist.
In official world cup/championships, the cash prize has been increased from Rs.21 lakh to Rs.80 lakh for a gold medalist, from ₹11 lakh to ₹55 lakh for a silver medalist and from ₹7 lakh to ₹45 lakh for a bronze medalist.
In the Commonwealth /Para Commonwealth Games, the sportsperson who clinches gold will now get ₹75 lakh against the earlier ₹16 lakh, ₹50 lakh for silver against existing ₹11 lakh and ₹40 lakh for bronze against the earlier ₹6 lakh.