Illegal sand mining: Administration wakes up to Punjab CM Amarinder's tweet; seizes machinery, detains 23
Updated on Mar 06, 2018 11:46 PM IST
Amarinder tweeted pictures of JCB machines along the river, adding that he had ordered a probe and had asked DCs and SSPs concerned to "seize" the equipment.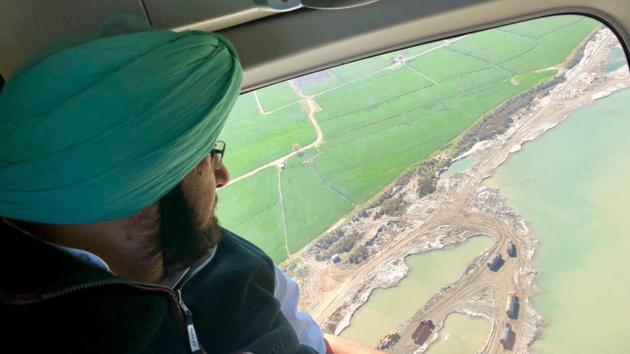 Waking up from deep slumber after chief minister Captain Amarinder Singh's tweet on illegal mining, Nawanshahr district authorities on Tuesday sprung into action and in a massive crackdown seized huge machinery and detained 23 people in this connection.
The move came after Amarinder, while on his way to Kartarpur in his official helicopter, spotted 'illegal mining' on the banks of Sutlej in Phillaur and Rahon. He tweeted pictures of JCB machines along the river.
In his tweet, the CM ordered a probe and asked deputy commissioners and senior superintendents of police (SSPs) concerned to "seize" the equipment.
The illegal sand mining has become a contentious issue in Punjab since the Captain government had taken the charge, especially after names of some ruling party leaders surfaced in this regard.
Opposition parties have targeted the government over illegal mining, forcing the CM to order a setting up of multi-department teams, headed by DCs to keep a check on this malpractice. However, sources said that nothing much was done before the tweet.
'Quarries legal, mining illegal'
Both police and civil officials of the Nawanshahr district, who immediately rushed to check the illegal mining at 13 quarries in the district, said the quarries from which the sand was extracted are legal, but the machinery used to extract the sand is illegal.
Nawanshahr SSP Satinder Singh said they have seized 30 trucks, 17 poclains, four JCBs and one tractor being used illegally to extract sand from six quarries.
"We have also detained 23 people in this connection, while cases are yet to be registered as the police and mining teams are investigating into the case," the SSP said, adding that cases will be registered soon.
The police and officials from the mining department had raided quarries in villages including Malikpur, Mandala, Behrsaal, Laalewal, Burjtehaldas and Khoje.
Sources said many people involved in illegal mining managed to flee from various spots, getting prior information about the raids.
Why machines used to extract sand?
Despite the ban on using machines like JCBs, poclains and excavators for mining, sources said contractors use the machinery to extract more sand than they are entitled to.
They said that as there is no check on the quantum of the sand miners are extracting, they are taking benefit by extracting extra sand from the riverbed to earn big profits.
Jalandhar deputy commissioner (DC) Varinder Sharma said the district administration sent its teams to Phillaur, but no illegal sand mining was detected there.
Meanwhile, Amarinder asked the director general of police (DGP) to expedite the formulation of a comprehensive strategy in coordination with the mining department and district administrations to ensure a complete end to illegal mining across the state.
(The story has been updated)
Close Story
Personalise your news feed. Follow trending topics