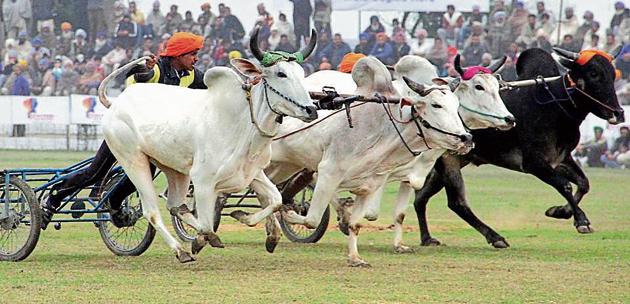 Punjab: Kila Raipur games to start without bullock cart race
UPDATED ON FEB 17, 2017 03:52 PM IST
For the third consecutive year, there will be no bullock cart race at Kila Raipur Sports Festival popularly known as 'mini or rural Olympics' starting from February 17-19.
Though the Tamil Nadu government has allowed Jallikattu, the members of Grewal Sports Association who organise Kila Raipur sports festival have still not got permission to hold the bullock cart race that was banned by the Supreme Court in 2014.
The members of the sports association were trying to get an appointment with Punjab Governor for the last few days but the appointment has been fixed for February 20, while the 81st edition of Kila Raipur Sports Festival will conclude on February 19.
Hopeful after Tamil Nadu government's ordinance regarding Jallikattu, the members of Grewal Sports Association had mentioned on the promotional posters of the sports festival that the bullock cart race will be held on February 17, 18 and 19.
Grewal Sports Association Secretary, Balwinder Singh Grewal has stated that there will be no bullock cart race this festival. "We were trying to get permission but we have not got it till date. We are going to meet the governor on February 20. If we get permission for bullock cart races, this event will be held later this year", he added.
"The Tamil Nadu government supported demand of the people to allow Jallikattu but our government didn't hear our voice. We met Deputy Chief Minister Sukhbir Singh Badal, but to no avail. We will now demand from the new government to allow the bullock cart race. The bulls and other animals are not subjected to any cruelty during the games", said Jagbir Singh Grewal, a member of Grewal Sports Association.
A farmer of village Kila Raipur said, "We have been taking care of our bulls more than our children. Bullock Cart races were the true spirit of this sports festival. We have spent lakhs of rupees on our bulls. Earlier, a large number of foreigners used to come here only to see bullock carts races but now they are missing this event too. If Tamil Nadu government can allow Jallikattu, Punjab government should also take steps to allow bullock cart races."
After ban on bullock cart race, an animal welfare activist had also demanded to ban dog race too. However, Balwinder Singh Grewal claimed that they are not violating any law. "We have permission to hold dog race", he claimed.
The organisers of the sports festival claimed that the main events including horse race, tractor race, Bhagwant Memorial Gold Cup Hockey tournament, kabaddi, daring acts and athletics will entertain the visitors. Besides, Punjabi singers will also perform at evenings. Deputy Commissioner, Ravi Bhagat will inaugurate the games on Friday.
The bullock cart race was organised last time during 78th sports festival in 2014.
Close