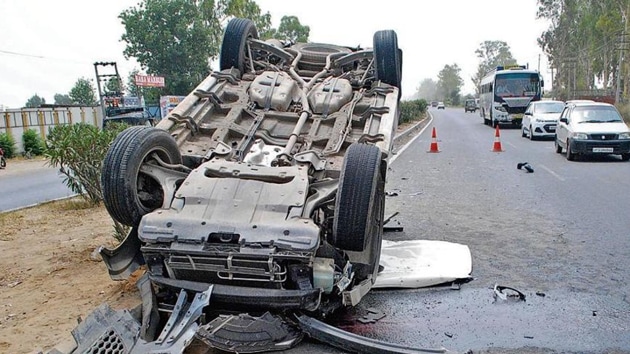 Punjab records 15.7% decline in road fatalities in 2017
Punjab witnessed 4,278 deaths due to road accidents in 2017, as against 5,077 fatalities in 2016
UPDATED ON MAY 04, 2018 07:53 PM IST
Crackdown against drunk driving and over-speeding has led to almost 16 per cent decline in road accident deaths in Punjab last year, a senior traffic police official said.
He said that 12 people lost their lives every day last year due to road accidents in Punjab.
Having set a target of 10 per cent reduction in accidental deaths every year, Punjab Traffic police sought more scientific equipment like alcometers, speed guns and deployment of additional 2,000 traffic personnel.
It also stressed on holding more traffic awareness programmes and honouring good samaritans.
Addressing the media here, Punjab additional director general of police (Traffic) S S Chauhan said Punjab has witnessed 15.7 per cent reduction in road fatalities in 2017, the sharpest decline in number of deaths.
Punjab witnessed 4,278 deaths due to road accidents in 2017, as against 5,077 fatalities in 2016, he said.
The first quarter of this year also witnessed a sharp decline in road accidents with 1,070 accidental deaths were reported compared to 1,134 during the same period last year.
The ADGP said percentage reduction in number of deaths in Jammu and Kashmir, Himachal Pradesh and Rajasthan was 2.82 per cent, 5.35 per cent and 0.21 per cent respectively.
Chauhan said police issued 10,000 challans, which were double against previous year's figure.
Asserting that drunk driving and overspeeding were the two major factors behind casualties in road accidents, he said as many as 1.60 lakh challans were issued for riding without helmets.
According to socio-economic cost evaluation, Punjab saved Rs 810 crore last year through reduction in road fatalities/accidents, Chouhan said.
The traffic police was developing 'Green Corridors' in all major cities to provide uninterrupted routes for free, safe and fast movement of ambulances from outskirts of the city up to the hospitals, he said.
Also 32 traffic aid posts-cum 'Saanjh' posts were also being set up at each toll plaza where commuters could ask for free ambulance service and recovery van in case of accidents, the officer said.
"We want that good samaritans, who extend their help in case of accidents, should be honoured on Republic Day and Independence Day," he said.
The ADGP Traffic said three MoUs have also been signed with state's three premier technical institutes Maharaja Ranjit Singh Punjab Technical University, Guru Nanak Dev Engineering College Ludhiana and Guru Ramdas School of Planning, Amritsar with the aim of taking up joint research activities required for modernising engineering, enforcement approach.
Close