'Hindu group leader got self attacked for larger security cover'
Updated on Apr 30, 2016 01:14 PM IST
Jalandhar police on Friday booked the district in-charge of Shiv Sena (Uttar Bharat), a faction of the Shiv Sena, Deepak Kamboj and arrested his two friends for planning his own attack.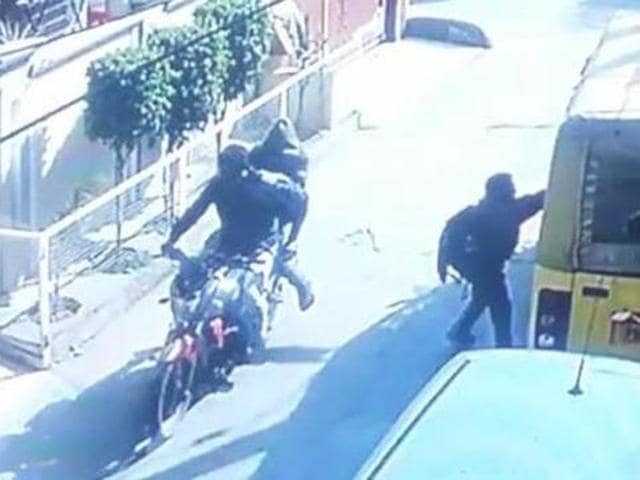 Shiv Sena (Uttar Bharat) district in-charge Deepak Kamboj (35) had orchestrated the February 16 attack on self with two friends to gain publicity and maximum security cover, claim police.
Dhan Mohalla printing press owner Gaurav Sondhi and Maqdoompura property dealer Supinder Singh are his alleged local accomplices under arrest. Police commissioner Arpit Shukla said on Friday here that Kamboj had plotted the attack in January 2016 and remained in touch with the actors on mobile phone.
"They held a meeting that morning and even left together for the spot outside Shiv Jyoti Public School at Deen Dayal Upadhyay Nagar," the officer added.
"Deepak had asked his friends to shoot in a way that didn't injure him much, but they shot him in the right knee. When elections are approaching in Punjab, his popularity was dipping," said the police commissioner. The Shiv Sena leader had allegedly promised Sondhi a weapon licence kept his word next month. Already, he had secured another arms licence for Supinder Singh on December 21, 2015.
Gaurav is said to have fired the bullet from Supinder's .32-bore licensed revolver while sitting behind him on his Yamaha FZ silver-red bike. Police have recovered the weapon along with 15 live cartridges, the getaway two-wheeler, and Gaurav's .32-bore revolver. A relieved police commissioner applauded the special investigation team (SIT) of Navjot Singh Mahal from Punjab Armed Police (PAP); assistant commissioner of police (crime) Harjinder Singh; crime investigation agency (CIA) in-charge (Jalandhar-1) Angrej Singh; and Phagwara CIA staff in-charge Inderjeet Singh.
An informer has collected Rs 5 lakh cash award for information leading to the arrest of the accused from Jalandhar's Milap Chowk on Friday evening.
Shiv Sena leader Kamboj is charged with criminal conspiracy. Police said he had accepted `80,000 from the accomplices for getting them guns licences. Kamboj and his father enjoy a security cover of 15 policemen.
Read: Shiv Sena faction district chief shot at in Jalandhar
Read: Attack on right wing leader in Jalandhar: 5-lakh award for info
Footage from a security camera installed outside a house near the spot had caught the two attackers with hoods on. Eyewitness accounts suggest the pillion rider fired three shot at Kamboj, of which two were off target.
Additional director general of police (internal vigilance cell and human rights) Prabodh Kumar had also visited the spot with the SIT.
Personalise your news feed. Follow trending topics