Tourist rush during festive weekend chokes Shimla
Updated on Sep 30, 2017 03:10 PM IST
The roads leading to Shimla near Shoghi and beyond Dhali tunnel towards Kufri are worst hit.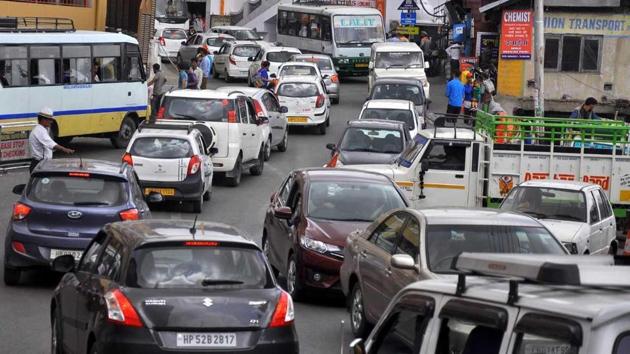 The long weekend has Shimla on a short fuse.
The rush of tourists has left the hill capital choked with traffic jams and parking spaces packed to capacity since Friday evening.
Commuters, particularly tourists, had tough time reaching their destinations. Vehicles moved at a snail's pace as the 120-odd traffic police personnel tried to streamline the flow in the town.
The roads leading to Shimla near Shoghi and beyond Dhali tunnel towards Kufri were worst hit. Jaswinder Singh, a tourist from Ludhiana, said it took him more than one-and-a-half hours to cover the 13-km stretch from Shimla to Shoghi. "It took longer to find a parking. We were planning to go to Kufri but taxi operators cautioned us about the jam ahead," he said.
Shimla superintendent of police Soumya Sambasivan said, "Tourist influx has increased this weekend due to Dussehra. On an average 5,000 vehicles enter Shimla on long weekends, while the normal number is about 3,000 vehicles a day."
The town has four major parking areas and they are packed.
Commuters and apple traders have parked vehicles on the roadside, leading to congestion from Kufri to Chharabra.
Hotels in and around the town are also packed to capacity. Atul Sood, a local hotelier, said, "We have been getting enquiries but can't take more tourists."
Ashish Sood, a travel agent, said, "Most enquiries are for sightseeing in Kufri and Chharabra but we are discouraging tourists because of the jams."
Tourists complained of overcharging by taxi operators. "The taxi drivers charge Rs 50 more than the usual fare, citing the travel time due to the traffic," said Atul Chauhan, a resident of Shimla. "For local residents, it is better to walk than drive these days," he said.
Sambasivan, however, said the police had not received any complaint of overcharging.