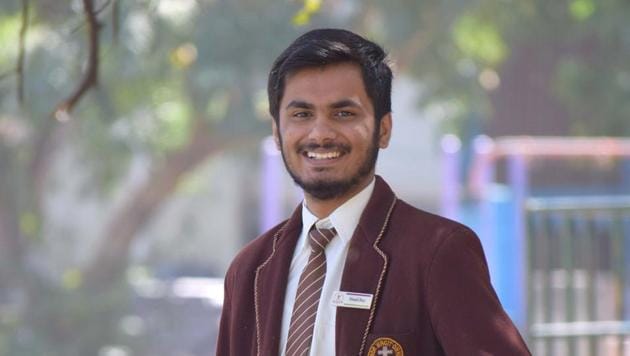 Turning 18 with HT: 'Corruption is killing our democracy'
RISING STAR: Pratikshit Agrahari, the head boy of Mount Carmel School, Sector 47, Chandigarh, is a national-level basketball player who loves quizzing and aces academics too.
UPDATED ON MAR 19, 2018 10:40 PM IST
Pratikshit Agrahari
Mount Carmel School's Pratikshit Agrahari believes development should reach all; he wants to work on improving the condition of roads, particularly in the hills
Born on: October 9, 2000
Badge of honour: Head boy, Mount Carmel School, Sector 47, Chandigarh
What turning 18 means to me
It marks the beginning of a new phase. I will be stepping out of home to lead an independent life away from my parents. I will have a say in government policy-making as I can vote in 2019. I'll have more identity cards from a driving licence to the voter I-card.
What I want to be and why
I want to study in an Indian Institute of Technology (IIT). It could be any branch of engineering. I want to work on improving the condition of roads, particularly in the hills.
My idea of India
Indians blame the government for everything but they won't do anything to solve the country's problems. The media, particularly the TV channels, sensationalise issues for TRPs. They offer superficial, one-sided information but there is always more than what meets the eye. The media should offer balanced coverage so that the real problems of the masses can be solved.
What makes me happy
I'm the happiest in the company of my friends and family. I love playing basketball and football with friends.
What makes me angry
Able-bodied people begging on the streets. Why can't they work and earn a living? The lack of civic sense among people, particularly when they litter even after a religious procession.
My fear and fantasy
My only concern is that I shouldn't let down my parents.I want to meet former US president Barack Obama.
Am I happy where I am
Yes, I'm done with the syllabus for the math exam coming up but the past two years have been busy. It's good to be occupied though I want to learn to play the guitar once the exams are over.
What money means to me
Money is a mirage. It's needed to the extent that the needs are answered. But craving it at the cost of the joys of life is not wise. If I earn more than I need, I will give it away in charity.
What makes me proud about India
Despite the diversity, we are united. India is home, nowhere in the world can we be as comfortable. Indian families are close knit and the place where values for life are imparted.
What I can't live without
My family and friends.
What social media means to me
I don't have a smartphone. I deactivated my Facebook account a few years ago. I'll consider going on social media if I get free time after productive activity. To unwind, I listen to music and play football these days. I'm fond of the rap music of Kendrick Lamar besides Atif Aslam's 'Dil diyan gallan' from Tiger Zinda Hai. It's my father's favourite too.
Changes I would want to see in Chandigarh
I've lived in Chandigarh for 10 years. I find that roundabouts have turned choke points. The Metro is not a good idea for the tricity. Rather, the public transport system needs to be developed and the government should increase tax on private vehicles to dissuade people from buying more than one car.
Changes I want to see in India
The government's policies should be implemented with sincerity so that the benefits reach the common man not middlemen. Corruption is killing our democracy. All sections need to see development otherwise law and order problems such as separatism and Maoists surface.
What religion means to me
While I respect all religions, I'm a Hanuman bhakt and offer prayers to the Sun God daily. My faith is personal and it gives me peace.
My role model and why
My parents. My mother, Sonam Lalit, is a homemaker who inspires me to work hard with determination. She is so caring that she comes at least twice to check on me when I study till 3am. My father, air force warrant officer Lalit Kumar Gupta, is a self-made man. He comes from a humble background in Rae Bareli. I want to do them proud.
Close