In the case of India, the report said the country had "suffered a series of setbacks to political rights and civil liberties" and it had "showed no signs of reversing course, as notable opposition figures faced arrest and surveillance".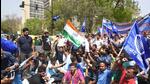 The January 6 attack on the seat of Congress, led by supporters of Donald Trump, was "a harbinger of increasing political violence," and American democracy "is threatened," according to two-thirds of those surveyed for a CBS News poll.

The two-day virtual summit was attended by leaders of 89 countries - of the 100 who were invited - and the European Union.

By
Yashwant Raj
, Hindustan Times, New Delhi
Jawaharlal Nehru Death Anniversary: As India pays homage to the country's first and longest serving Prime Minister, here are some of his lesser known facts, inspirational quotes and positive messages that will make you fall in love with the beauty of the world, art, life and culture
The study from the Centre for the Future of Democracy released on Tuesday is based on data of nearly 5 million respondents in over 160 countries – except India and Turkey – between 1973 and 2020.