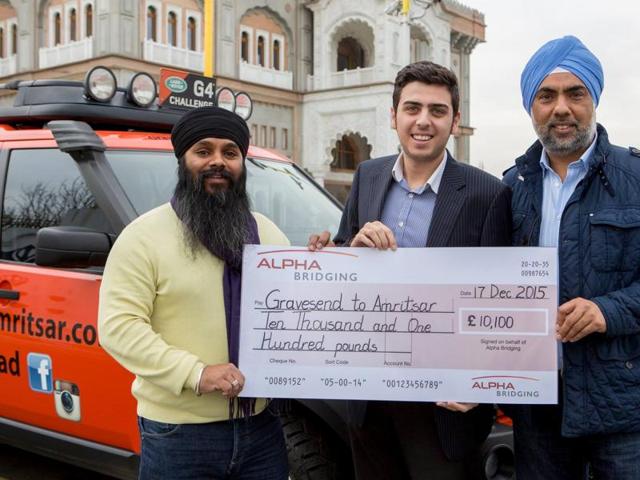 Two British-Indians to go on charity drive from UK to India
Two British-Indian friends are set to drive from a town in south-east England to the Golden Temple in Amritsar travelling through 17 countries in 14 days to raise 25,000 pounds for a British heart foundation
UPDATED ON DEC 22, 2015 07:54 PM IST
Two British-Indian friends are set to drive from a town in south-east England to the Golden Temple in Amritsar travelling through 17 countries in 14 days to raise 25,000 pounds for a British heart foundation.
Jagjit Singh and Rapinder Singh, both 36 years old, aim to complete nearly 12900 km road trip from Gravesend to the Golden Temple in 14 days starting February 1 next year.

The pair will drive through Germany, Austria, Turkey and other countries and have applied to the 'Limca World Book of Records' in the hope of setting the shortest cross-continental travel time. The journey is in memory of Jagjit's father, who died of heart failure in February 2012.
The duo are being sponsored by 17 local businesses and they aim to raise 25,000 pounds for the British Heart Foundation (BHF) dedicated to research into heart disease.
"I work in the vehicle business and both of us like driving so it made sense to do the trip. We will be taking turns on the wheel every three hours. We want to remember my father and raise money for the BHF," Jagjit was quoted as saying by 'News Shopper'.

He added, "In the early stages, when we drive through Europe, we will be looking to cover 1,000 to 1,500 miles a day. Originally, we were going to do this trip for fun but then my dad died and it became more charitable. "Rapinder did not need much persuading to come because he is the one that reminded me about the idea in September. Anything that comes up along the way is where we will be sleeping."
Close