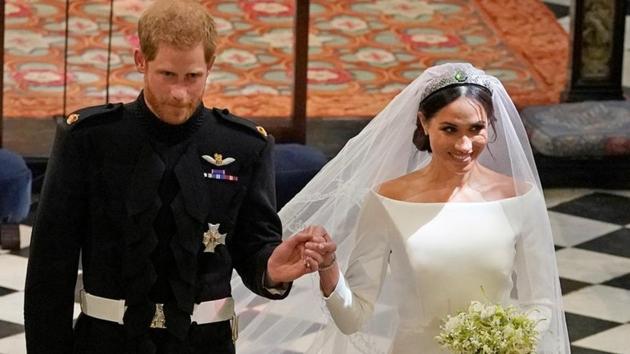 Witerati: Of bride and prejudice and marriages sub-judice
In times rife with disillusionment about marriage, the sole sunshine patch in an institution under a cloud seemed to be the honeymoon period, a la making "Merry".
Hindustan Times, Chandigarh | By Chetna Keer
UPDATED ON JUN 09, 2018 10:39 PM IST
In a season that saw Tweeple feeding on tidings of some famous marriages stalked by suicide theories or some simply breaking up for bitter or worse, the world stayed so starved of fairytales that it seemed not to have had enough of the royal romance on Twitterverse.
In times rife with disillusionment about marriage – whether it was the Mehr Jesia-Arjun Rampal split or the shadow of conspiracy theories lurking over the erstwhile Shashi Tharoor-Sunanda Pushkar matrimony -- the sole sunshine patch in an institution under a cloud seemed to be the honeymoon period, a la making "Merry".
There's Something About "Merry"
Though #RoyalWedding saw the Meghan-Harry (aka "Merry") fairytale fashioned into a happy ending, Twitter in no way witnessed the fixation with the Duke and Duchess of Sussex ending.
For, this digital age decrees that fairytales don't end with "happily ever after", instead the narrative of royal fixation thereafter chases a couple not only to their honeymoon but also to things as blasé as bride and prejudice.
Thus, the paparazzi script pronto became pregnant with post-nuptial rumours about baby bumps or bumpy ride of royal protocol. It's like the euphoria of IPL-2018 final victory being voyeuristically chased from the stadium right into the Chennai Super Kings (CSK) dressing room.
Even after the narrative driving the best-kept secret of the royal dress stood unveiled, Tweeple's fixation didn't come to a close, as paparazzi prose perambulated to now chase bridal pantyhose.
In a world smacking of spiralling selfie-consciousness, this narrative of fixation soon steered towards strictures on the senora of Sussex to stay away from selfies. All for the sake of royal self(ie) interest!
Ironically, the Duchess of Sussex who had to close down her own social media accounts, now boasted millions more Twitter accounts following her than before.
In the season that saw many marriages closer home turning sour, this was the classic case of the world seeking succour in chasing a fairytale reined in by a reigning matriarch dour!
Of Queen's English, A La Alia
While folks English scrutinised the political correctness of the Queen's new granddaughter-in-law, closer home it was the incorrectness of Queen's English spouted by a B-town princess that inspired scrutiny from Bollywood royalty.
For a change, it wasn't English language's fabled brand "ambassador" Shashi Tharoor who was tutoring Tweeple in grammar, but "Shahenshah" Amitabh Bachchan. The recipient of his Twitter tutorial was none other than Alia Bhatt who, while raving about Big B after the 'Brahmastra' pack-up, tweeted: "… but he stayed back on set to give ques …"
Big B in his inimitable style politely pointed out: "Yo, Alia … err, it's 'cues' not 'ques' …"
A classic case of a desi princess not striking the "write" note with Queen's English.
Of Shashisms & Legalisms
While Britain's newly turned royalty fiddled with pulling up pantyhose, a section of India's political "royalty" grappled with the prospect of pulling up its socks.
In a scorching season where marriages looked more under a cloud than the sweltering sky-scape, parliamentarian-cum-unofficial grammarian Shashi Tharoor faced the heat from suicide theories stalking wife Sunanda's death.
Summoned to stand trial, Tharoor attributed it all to political vendetta which, if translated into Shashism, could read thus:
" … these conspiracy theories shrouding the sanctitude of this nuptial amalgamation smack of a sacrilegious vindictive and vicious stratagem to not only sully this sanctified institution but also to blasphemously besmirch the social standing of a bereaved widower … !!!"
chetnabanerjee@gmail.com
Close