Yoga, dance to relieve exam stress
As testing time approaches for students, Chandigarh-based yoga and dance gurus offer valuable tips for de-stressing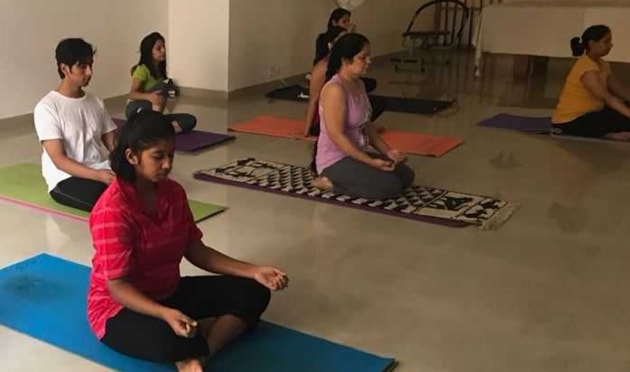 Updated on Feb 15, 2018 07:38 PM IST
Hindustan Times, Chandigarh |
Arshdeep Arshi
Final examinations are stressful for everyone, even when one is completely prepared after covering the whole syllabus and all the important questions from previous year papers. In the age of competition, scoring well is not good enough and getting top scores has to be the aim. Such scenario has made the examinations a stressful affair.
However, there are ways to de-stress the mind and body while preparing for the final examinations. While sports and games are an escape for many, some students are also going for yoga and dance classes.
Yoga and dance gurus are suggesting yoga and dance practise as power boosters and a source of rejuvenation.
Yoga should be part of your lifestyle
Chandigarh-based yoga guru Shobhna Juneja tells, "Yoga originated in ancient times. It used to be the part of the gurukulas curriculum for students and eventually their lifestyle. In present time, it is very important for the students to practice it regularly for improving their concentration and relaxation of their mind."
She further says, many students come for learning yoga and some even continue coming during the exams as it helps them in focussing on their studies. She suggests, "Everyday, at least 5-10 minutes of yoga can help one in refreshing their mind."
For complete relaxation and focus, she suggests, students should practise 'Anulom-Vilom Pranayama' and mantra chanting. "Even if the students start practising now, it will help them," she says.
'Dancing is a therapy'
Not only yoga but even dance classes are being opted for de-stressing. City-based fitness dance guru Jasmeet Kaur Shan says, "Dance comes as a therapy during stress and anxiety. It helps in relaxing and remaining stress-free."
"We have students from different age groups coming to us in different batches. Dance helps them in disconnecting with the stress related to their studies and exams and helps them rejuvenate," she adds.
Yogic stress relief tips for exams
· Take a walk to connect with nature
· Practise deep abdominal breathing
· Meditate for 5-10 minutes to relax mind
· Chant a mantra with which you can connect
· Do yoga nidra/conscious self relaxation for 10 minutes
· Practise yoga Asanas daily
· Have timely and adequate sleep
· Have nutritious and complete meals
Yoga Asanas during exam days
· Tree pose - improves balance and concentration powers
· Cobra pose - makes the spine supple
· Down Dog Pose - stretches the complete body
· Bow pose – makes digestion strong
· Sarvangasana - keeps the metabolism in balance
· Shirshasana - improves circulation to brain
· Fish pose - removes tension from neck and shoulders and deepens the breathing capacity
· Lotus posture or Easy crossed legged position - improves memory and concentration
Close Story
Personalise your news feed. Follow trending topics