Rajasthan assembly elections 2018: Unemployment dole, jobs in BJP manifesto
Updated on Nov 27, 2018 11:57 PM IST
Rajasthan assembly elections 2018: The BJP manifesto promises 50 lakh jobs in private sector in five years in Rajasthan, and 30,000 jobs every year in the government sector. CM Vasundhara Raje said up to Rs 5,000 per month will be given as unemployment allowance.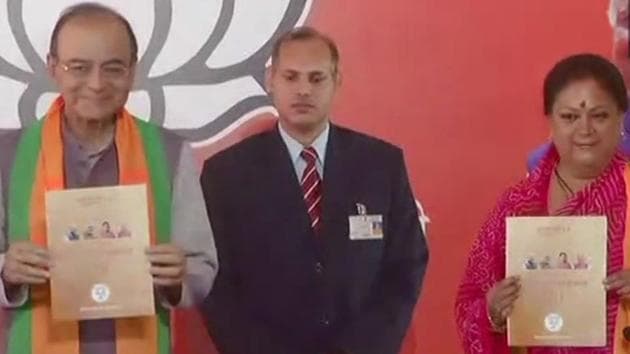 Rajasthan's ruling Bharatiya Janata Party (BJP) on Tuesday promised to create five million jobs over the next five years, pay a monthly unemployment allowance of ₹5,000 to the jobless, set up a loan relief commission in each division and a Rs 250 crore rural start-up fund to help double farmers' income if it wins power in the December 7 assembly polls.
The 48-page manifesto said it would identify and deport Rohingyas and Bangladeshis who have illegally settled in the state, and offer Indian citizenship to the children of displaced Hindus from Pakistan, who number about 500,000 in Rajasthan.
The BJP manifesto also targeted different communities. Chief minister Vasundhara Raje promised the creation of a board in the name of Parshuram, a mythological figure revered by Brahmins. She promised to build hostels for Jains and earmark land for celebration of the Jain festival of Haturmas. She also promised a board for nomadic tribes and at least five new initiatives in name of Bhimrao Ambedkar, India's first law minister.
"We will also provide money through MGNREGA to grow fodder for cattle in pasture lands," Raje said. MGNREGA is short for Mahatma Gandhi National Rural Employment Act, under which at least one member of every rural family gets 100 days of manual work every year.
The CM said additional police check posts will be set up to deal with cow smuggling in the Mewat region comprising Bharatpur and Alwar districts. Three persons — Pehlu Khan, Rakbar Khan and Umar Mohammad — have been killed in Alwar district in the last two years allegedly by so-called cow protection groups.
Releasing the manifesto, Union finance minister Arun Jaitley said the document was a road map for development of Rajasthan over the next five years. He expressed confidence that chief minister Raje will get elected again. In the past 25 years, no incumbent chief minister has returned to power in Rajasthan.
Through the manifesto, the BJP has tried to deal with concerns raised by farmers and young people , the two big voting groups in the state. The promised creation of five million jobs in the next five years is aimed at young voters. The CM said cooperative banks will give loans of ₹1 lakh crore to farmers. A BJP government will offer higher minimum support price for agriculture produce and seek to double farmers' income in five years, she said. BJP, if it returns to power, will appoint legal advisors at district level to counsel small and marginal businesses, manifesto said.
The Congress called the manifesto a "document of lies" and said the BJP should have released an apology letter instead. "In the previous manifesto also, chief minister Vasundhara Raje had made a fake promise of providing 15 lakh jobs to the youth of the state. By making this announcement, the BJP is trying create an illusion among the youth," said chairperson of communication department of the All Indian Congress Committee (AICC) Randeep Surjewala.
Rajiv Gupta, a political analyst, said, "This manifesto of the BJP is institutionalisation of the political agenda of Hindutva."
For full coverage on Rajasthan elections, click here
Personalise your news feed. Follow trending topics