'PLFI share ideology with CPI(Maoists) but function differently'
Updated on May 12, 2015 01:15 AM IST
I am the state's (politicians included) biggest enemy. Both politicians and police make huge money from the funds earmarked to arrest me.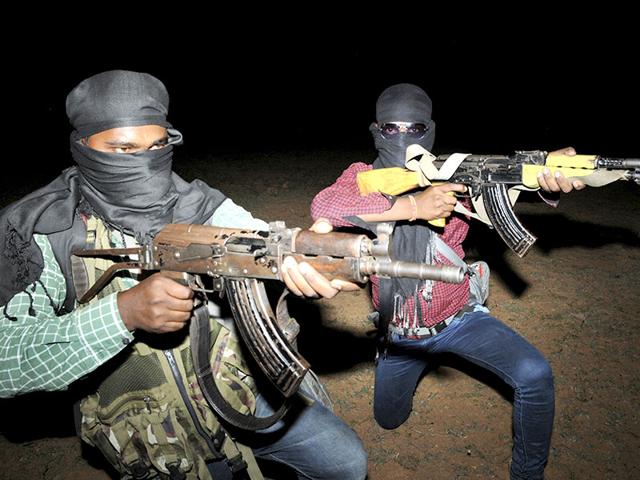 Hindustan Times |
, On The Hills Along The Jharkhand-odisha Border
B Vijay Murthy
Dinesh Gope, 33, is a former soldier who claims he revolted and left the army in 2003, barely three years after joining service, to form a rebel group after he saw his superior allegedly raping a woman in Ladakh.
The well-built mustachioed rebel stands six feet tall and has studied only till the intermediate level. He speaks more than 10 languages, carries at least 35 mobile phones in a bag dangling on his shoulder, and moves in a convoy of swanky motorcycles escorted by heavily armed men.
The HT team was invited to meet Gope at an undisclosed location along the Jharkhand-Odisha border. In his first interview to a national daily, Gope answered several prickly questions:

Why do you kill innocent people?
We only kill anti-socials and those who exploit the poor and gullible. Rival and vigilant groups like Shanti Sena operating with police patronage carry out such acts and put the blame on us. Media publishes what the police feeds. We are getting popular, hence people are exploiting our names.

How is PLFI different from CPI-Maoists?
We have a common ideology but we function differently. We do not make children pick up guns, they do. We build schools, they blow up schools; we enroll children in schools, they abduct children to replenish their armed squads and bal dastas.

What is the strength of your armed squads?
I can't give a ball park figure but we have an army of 7,000 to 8,000 fighters spread over five states.

Are guns and bloodshed the solution to any problem?
History speaks that without bloodshed, there has been no revolution. Guns are only a medium to bring about the desired change in society.

PLFI is full of contradictions. You claim you are anti-state but your leaders contest polls and are occupying constitutional posts.
At times, you have to get into the system to understand it better.

Your strong political connections have prevented your arrest so far.
I am the state's (politicians included) biggest enemy. Both politicians and police make huge money from the funds earmarked to arrest me.

PLFI collects huge amounts as levy. Where does the unaccounted money go?
Our accounts are audited and spent on the welfare of the organisation. The bulk of it goes on public welfare.

What future have you assured to the boys who have picked up arms for you?
They are born revolutionaries like me. They have not come for money or any gains. Together, we are sowing the seeds of that elusive society where the poor will have a voice.

Why do you recruit children and girls?
We do not recruit them. But if a minor in his or her teens comes voluntarily, we do not say no.

What is the ultimate goal?
To spread our ideology and base nationally and internationally. An Assam-based organisation of tea garden labourers is in talks with us. We have also spread to Uttarakhand and Haryana. Our cadres are now in Sri Lanka, Mauritius, China and Nepal, holding talks with like-minded organisations.
Personalise your news feed. Follow trending topics