Ranchi-Tori rail link flagged off
The new rail line will shorten the distance between Ranchi and Delhi via Lohardaga-Tori by 106 kms and reduce travel time by around two hours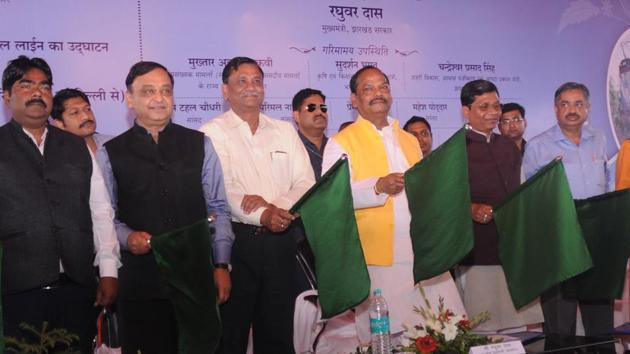 Published on Mar 10, 2017 01:40 PM IST
Ranchi: The much awaited 111-km Ranchi-Tori railway line project was finally completed with the inauguration of the remaining 29.5-km railway line from Badkichanpi to Tori by Union railway minister Suresh Prabhu and chief minister Raghubar Das on Thursday, paving the way for a two-hour saving on trvavel time to New Delhi.
Prabhu had participated in the programme through video-conferencing from Rail Bhawan in New Delhi while Das was present at Ranchi Railway station with other dignitaries to flag it off.
The Ranchi to Tori (Latehar) railway line project had been sanctioned in 1997, started in 2001 and completed in 15 years at a cost of Rs 583. The new rail line will shorten the distance between Ranchi and Delhi via Lohardaga-Tori by 106 kms and reduce travel time by around two hours.
"Rail projects are making fast progress in Jharkhand with the initiatives of its chief minister. The rail budget share for Jharkhand in 2009 was merely Rs 497 crore, which was increased to Rs 2583 crore this budget and projects worth Rs 29,824 are underway in the state," Prabhu said. He said the completion of the railway projects would take care of several problems, including migration from the state.
Chief minister Raghubar Das said that his government was making all efforts to enhance road, rail and air connectivity in the state. "Railway service is being started in Hazaribag and it is being expanded in Santhal Pargana," Das said, adding, the government is also trying for rail connectivity to Parasanth, one of the sacred pilgrimage destinations of Jains in Giridih district.
He said the government was also planning to bring country's first hyperloop mode of transportation in Jharkhand. "We will soon carry out a feasibility report and talk to railway ministry in this regard," Das said, adding, "We are exploring ideas to introduce the system between Ranchi and Jamshedpur or Ranchi-Jamshedpur-Dhanbad route".
A delegation of Hyperloop Transportation Technology, a company providing transportation facilities, had met chief minister Raghubar Das in the first week of February and given a presentation.
Close Story