Thunderstorm uproots trees in Ranchi
Heavy thunderstorm and peanut-sized hailstones poured down in Ranchi on Wednesday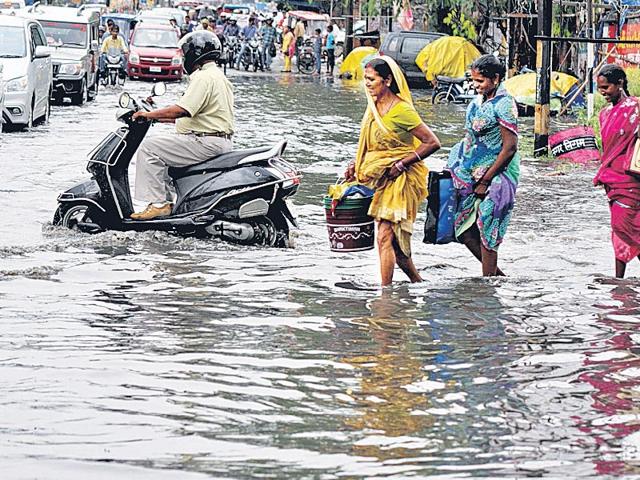 Updated on May 28, 2015 09:59 AM IST
Hindustan Times |
, Ranchi
Surav Roy
Heavy thunderstorm and peanut-sized hailstones damaged property in Ranchi, bringing down the temperature to 28 degree Celsius on Wednesday. Ranchi meteorological centre director BK Mondal said similar weather conditions would prevail in the state capital and its suburbs at least for the next 48 hours.
The rainfall is caused by a trough-line from east Bihar to south Odisha, according to the meteorological department.
The span of incessant drizzle and showers may even last up to next 72 hours, Mondal said.
The weather department said Ranchi recorded a rainfall of 3.6 mm. Brief showers were also witnessed in Hazaribagh and its outskirts, but Dhanbad, Bokaro and Jamshedpur remained mostly dry. "Showers and overcast conditions would prevail for the next few days. Ranchi may even witness thundering without rains," said Mondal, adding heat would lessen after this spell of rains.
Ranchi had been witnessing a sweltering heat over the past one week. The maximum temperature went up to 42 degrees Celsius on May 23, with the heat wave claiming at least four lives in the state.
Although rains brought respite from the heat, strong thunderstorm damaged a lot of property in some parts of Ranchi. Trees were uprooted in Harmu Chowk and Argora, blocking roads leading to important corners of the city. The sudden change in weather will bring temporary respite locally, but hot and humid summer would return with more moisture in the air, the meteorological department predicted.
However, the weathermen said the untimely showers would not have any impact on the time of monsoon arrival in the state. "The weather has changed only in and around Ranchi. It shall not have any impact on the time of monsoon break in state," said Mondal.
Close Story
Personalise your news feed. Follow trending topics