Full-circle realty: Get a loan, build a house and redecorate, hassle-free
Jun 30, 2018 05:57 PM IST
New online platforms are letting buyers upload documents, select an architect, pick furniture and finish interiors, all at just a few clicks.
You can buy a house, or even build one, with just a few clicks. Developers and e-portals have been leveraging technology to simplify transactions over the past few years, introducing 360-degree tours, online booking and live chat services. Now, realty companies such as Make My House, Arrivae, SILA and Indiabulls Housing Finance are offering apps and websites that help buyers process home loans, design interiors, manage maintenance and even re-sell property.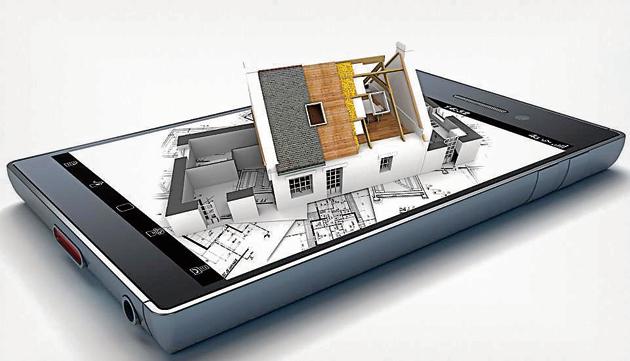 "In a recovering market, such 360-degree services are helping raise buyer interest with the promise of convenience, ease and transparency," says Pankaj Kapoor, CEO of real-estate consultancy Liases Foras.
This is particularly useful, say buyers, when you live in one city and are investing in another.
Mumbai businessman Mustafa Nadeem, 33, for instance, turned to Make My House when he decided to build his dream home in Indore. The website lets you pick your plot, architect, building material and interiors online. "Construction also begins on the date you finalise," says Mustafa Johar, co-founder and head of operations.
In January, Nadeem took possession of his customised, 1,800-sq-ft bungalow. "They helped me get all the land approvals, gave in to my demand that every room in my 4BHK house should overlook a landscaped garden, and delivered the completed house in eight months," he says. "Best of all, I only visited the site three times, to sign the sale deed and check on progress. Everything else was done through the website."
Arrivae, meanwhile, lets you conceptualise your interiors, pick furniture and select paint shades online. "Once you select a design, we complete your interiors within 45 days," says founder Yash Kela.
That worked well for Thane chef Neeta Desai, 35. "I wanted a mix of many themes in my 2BHK," she says. "They helped me get it all done, including a bonsai in the bathroom and a rustic living room. I only checked in twice."
Financial assistance and estate management are getting easier too, as a result of the 360-degree online services. About a year ago, Indiabulls Housing Finance began offering 'eHomeloans'. "You can apply through our mobile app, scan and upload all your documents. We evaluate them online and disburse the sum into your bank account," says COO Sachin Chaudhury. "We use a thumb impression instead of a signature."
Customers are still getting used to the idea of taking such a big step virtually, Chaudhury says. "We are launching a new version of the app with improved speed, better biometric recognition, and quicker service, in a few months. It will save customers the hassle and paperwork involved offline."
Once you've bought a flat or built a home, carpentry, electrical fittings, routine maintenance and even post control can all be done by 'full-circle' firms such as SILA.
"Buyers of luxury real-estate, especially, do not want the hassle of calling a plumber or a carpenter," says SILA co-founder and director Rushabh Vora. "So once the flat is bought, we offer annual and contract-based services for everything from fit-outs to car care, at a click."
"Exciting news! Hindustan Times is now on WhatsApp Channels
Subscribe today by clicking the link and stay updated with the latest news!"
Click here!