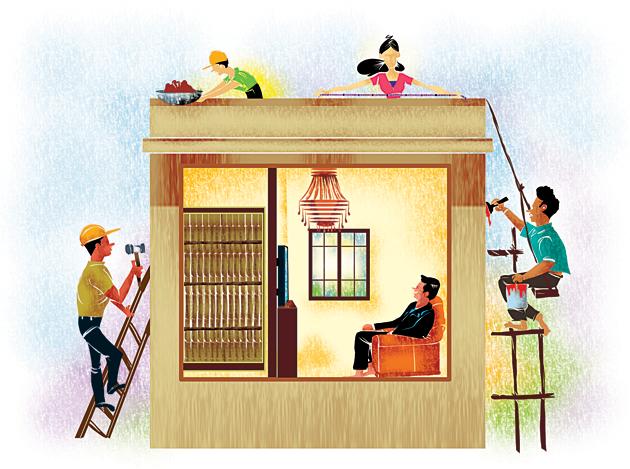 Moving gifts, cancelled vacations: Summers are a busy time in the realty business
Decorators, renovators, brokers and contractors share what it's like in peak pre-monsoon season.
Hindustan Times | By Anubhuti Matta, Dipanjan Sinha & Lavina Mulchandani
UPDATED ON MAY 06, 2017 09:13 PM IST
These scorching months of summer are even more tiring for those in the housing business. This is the sliver of time just after the social season and before the rains, an ideal period for redecoration. It is also a good time for moving house, so decorators, brokers and contractors have no time to breathe.
The busy season may bring bright new homes for customers, but behind the scenes, it brings tales of adventure and misadventure. Some have had to cancel their own vacation plans to meet customer demands, they've dealt with chaos resulting from couples pretending to be cousins to rent a room; they've even had to decorate one home in a 'jungle theme'.
Shilpa Govekar, who runs Shilp-A-Dream, an interior designing firm in Kandivli, says summers are the height of the busy season. "It is usually when kids have vacations that a family decides to redecorate," she says.
A year and a half ago, one family wanted her to redesign their living room to look like a jungle. The forest theme was not subtle: "They had part of a Jeep in the living room, on which they had placed the TV," she recalls. They wanted doors made of bamboo bark and even got her to install the machan in the right place in the living room to create the 'perfect vibe'.
As for their ceiling, they wanted it painted to mimic the sky. "They actually made me stand on the balcony to observe real cloud shapes so that I could copy them."
Govekar says she enjoyed the project, but "would have never the theme at my house". It was still a better deal than some of her other customers, who keep making additional requests after agreeing to a deal.
"The contract is made for the living room and bedroom but they ask me to also do the bathroom in the same timeframe," she says. "It becomes stressful and rushed, and I have to hire more workers."
Mahipal Singh, 54, worked with the Indian Army before a gunshot to the leg forced him to switch tracks. He came to Mumbai to become a bodyguard to celebrities, but switched to being a contractor, in 2013.
A life in the military doesn't prepare you for the business world of Mumbai, he would quickly discover. "In the beginning, I didn't know anything apart from how to give orders," he recalls. "I had to learn how to look beyond technical strengths and weaknesses and take a realistic view of my people and marketing skills."
He remembers one client who invited his family to dinner once their house was done. But there was another family that insisted on redoing their entire room just because the woodwork was in a different shade than they had asked for. "I had to cancel my vacation because this delayed the project by two weeks," he says.
Still, the work is fun, and dealing with new sites and people on each project is interesting. "Some clients trust us so much they check their homes only on the first and last days of the job; others are constantly sitting on our heads," he says.
There are drawbacks. "The flow of income is not steady, there's no health insurance, vacation or sick pay, but there is freedom from office politics and more chances to make money," Singh says.
In the seven years that Ramakant Gupta has been a property broker, covering the stretch from Worli to Mahim, one challenge has been the toughest: how to acquire homes for unmarried couples who want to live together. "Some landlords and building societies are unwilling to rent them flats unless they can prove they are married or will be married soon," says Gupta.
It makes for creative, sometimes problematic solutions. One client approached him three years ago, saying he wanted a home for himself and his cousin.
"Initially there was no problem and all the meetings went fine. But suddenly after a few months it emerged that they were a couple and were made to immediately vacate the flat by the building society."
The hectic season of house hunting leaves some brokers with some sweet experiences too. Sachin Aggarwal, who has been brokering residential property from Colaba to Khar for 10 years, was surprised by the kindness of a client four years ago.
"My client had a tight budget of Rs 50,000 for a 2BHK. After looking for a while I got them a good 2BHK for Rs 43,000 in Matunga," he recalls. "I was surprised to find that they had given me a brokerage check for Rs 50,000. When I tried to return the check, he said he wanted to pay me the full amount regardless." It was the start of a beautiful friendship.
"The best part about being a contractor is that there is no boss," says Amit Shetty, 40. "But there are days I wish I had one to take the load off my head."
Shetty became a contractor after his business as a jewellery importer failed 10 years ago. Since then, he has overseen more than 25 projects in Mumbai, and a few in Gujarat.
The workload varies. Some months are slow, but the weeks leading up to the monsoon are invariably busy. "We work double shifts so I hardly spend time with my children during their summer vacations," he says. "Once school starts, I don't see them often."
Shetty last took time off from work two months ago when his father passed away. Still, there were compromises.
"I couldn't even make it to his 13th-day ritual because it coincided with the opening of a restaurant I was decorating. If anything had gone wrong, I wouldn't get money on time," he says.
But happy clients make those tough decisions worthwhile. The restaurant client sent him a box of sweets and offered him and his family a free dinner for a job well done. Another customer was generous enough to gift him a brand new refrigerator and microwave because they didn't fit into the new layout of their kitchen.
Some days are so hectic he skips lunch and even forgets to drink water. But every new home is special. "I treat each house like my own," he says. "I want every client to come back to it and not feel the need to change it even after 10 years."
Close