Sarkar plagiarism row: AR Murugadoss slams Bhagyaraj for unfair treatment
Hindustan Times |
HT Correspondent
Oct 29, 2018 08:03 PM IST
Sarkar plagiarism row: Director AR Murugadoss opened up about the allegations revolving Vijay starrer's storyline.
Just days before the release, actor Vijay's upcoming film Sarkar has been embroiled in a plagiarism row. Director AR Murugadoss's film is reportedly similar to director Varun Rajendran's Sengol and on Sunday, the South Indian Film Writers' Association had ruled that the storyline of the two films were similar. Director AR Murugadoss has slammed director-writer K Bhagyaraj, who heads the association of unfair treatment.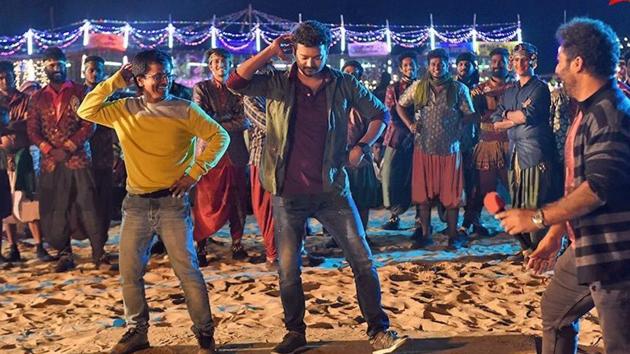 The plagiarism row began with a complaint that was filed by assistant director Varun who had registered his script with the association in 2007 according to a report in Times Of India.
The plagiarism case will be heard in court on October 30, Tuesday. That is a week before Sarkar's release. At this time, director Murugadoss opened up about the issue to Behindwoods and said, "I think the investigation was one-sided. Bhagyaraj claims that my story is very similar to Sengol. Let me ask him, did he read my full-bound script of Sarkar? They claim to have read the full script but they only read the synopsis."
AR Murugadoss also alleged that he had requested Bhagyaraj to read the full script, and was also ready to screen the film to clear any claims of plagiarism. He said, "Bhagyaraj should have read my full-script or seen my film which I offered to show him. But, he didn't do either" and questioned, "what did I do to deserve such a big punishment?"
He also clarified that the film was set in 2018 and follows the current political climate including the death of former Chief Minister J Jayalalithaa. He asked, "In that case, how can a story that was written 11 years ago and my film which is based on current politics be the same?"
The point of conflict is the sequence where Vijay character is shocked at the fact that someone has already cast the vote that was originally his, misusing his name. There seems to be a similar plot point in Sengol, leading to the ruling made by the Writers' association. To this, AR Murugadoss said, "In our state, the names of VIPs missing from the registered voters' list. Or somebody casting illegal votes in VIP names is a very common thing."
AR Murugadoss also refused to pay the accuser as suggested by Bhagyaraj because he was sure that the "truth is on my side." The director-actor duo's Kaththi also faced plagiarism allegations. Writer-director Gopi Nainar had accused AR Murugadoss of "stealing the story of Kaththi" from him in a video that he had shared.
Actor Vijay has faced multiple issues before and after the release of his films politically. Mersal, which had released in 2017, had also become a point of national interest after a member of Bharatiya Janata Party took offence to one dialogue about GST. Now, with Sarkar, his film is embroiled in a plagiarism row and early morning shows may also be cancelled if the industry grapevine is anything to go by.
Sarkar produced by Sun Pictures is slated to release on November 6 and will star Keerthy Suresh in lead role. The music for the film is composed by AR Rahman and this is AR Murugadoss and Vijay's third collaboration together after Thupakki and Kaththi.
Follow @htshowbiz for more