Censored woman artist's painting laid bare in restoration
Jan 14, 2023 11:08 AM IST
Artemisia Gentileschi: The piece by Artemisia Gentileschi, the Italian Baroque's trailblazing woman artist, is undergoing a months-long restoration to rediscover her original vision.
Using gentle, circular motions, an art restorer gently cleans the painting of a half-nude woman that was censored more than 300 years ago by a prudish descendant of Michelangelo.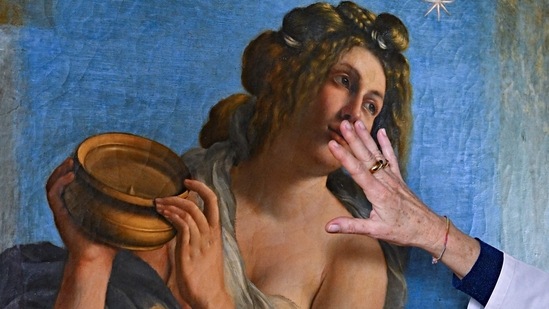 Read here: Egg attack on King Charles: Man pleads guilty, fined this much amount…
The piece by Artemisia Gentileschi, the Italian Baroque's trailblazing woman artist, is undergoing a months-long restoration to rediscover her original vision, hidden for centuries under a thick layer of strategically placed paint.
While the restorers consider it too risky to remove the drapery and veil later painted on to cover the figure's breasts and loins, diagnostic imaging will provide a glimpse of the original nude as Artemisia intended.
"As we say in Italian, it's been turned inside out like a glove with all the diagnostic techniques possible to understand how the painting was conceived, how it was painted," conservator Elizabeth Wicks, the head of the team of restoration experts, told AFP.
The experts also want to uncover "what happened to it afterwards, and to see if we can read between the veils of censorship that were added to the painting."
Artemisia painted "Allegory of Inclination" in 1616 to glorify Italy's most celebrated artist, Michelangelo Buonarroti.
But the work's curious history has only added to the fascination surrounding Artemisia, the 17th century's most eminent woman painter whose talent, independence and dramatic life story have fuelled new appreciation in the post-#MeToo era.
Hide the flesh
The painting, which many believe to be a self-portrait of Artemisia, depicts a female nude sitting atop a cloud, representing innate creative talent and drive.
It was commissioned by Michelangelo's great-nephew, who turned his ancestor's home into a sumptuous residence and museum to celebrate his genius.
Read here: This is EU's first mainland satellite launch port: Details here
It was one of 15 paintings Michelangelo the Younger commissioned for the ceiling of the palazzo's gallery.
Artemisia, who went on to achieve fame and the patronage of kings during her lifetime, was paid three times more than her male colleagues, in recognition of her exceptional skill.
She painted the work soon after arriving in Florence from Rome, where at age 17, she was raped by a colleague of her painter father.
During a subsequent trial, she was tortured to determine whether she was telling the truth, and her attacker was convicted.
About 70 years after the work's completion, a more puritanical descendant of Michelangelo baulked. Concerned about the possible effect of the nudity on his wife and children, he hired famous Tuscan artist Baldassare Franceschini, known as "Il Volterrano", to modify it.
He painted a diaphanous veil over the figure's breasts and heavier drapery over her loins. That extra layer of oil paint, which can take up to 200 years to fully dry, now presents too great a risk to remove.
"I like to think that she had passed away by the time this painting was censored because I don't think she would have been very happy about it," said Wicks.
"We're not too happy about it either, but it's part of the history of the painting at this point."
Heroine at centre
Centuries of smoke, and varnish added in the 1960s, have imparted an orangey fake tan to the figure's skin, while the brilliant blue sky painted with lapis lazuli has turned a sickly grey-green.
"You can see this leg is lighter because I have cleaned (and) thinned the varnish in this area," said Wicks, dabbing at the canvas while peering through magnifying glasses.
Wicks started at the edges, and next month will begin working on the back of the canvas. After a careful restretching, resins will be added to strengthen the fibres of the canvas and re-adhere the paint.
Read here: US-Japan reiterate importance of peace and stability in Taiwan Strait
Thus far, X-rays and other imaging techniques have revealed not only the underlying nudity but also changes made to the eyes and hands as Artemisia worked.
"What you'd think is under the veil is under the veil. It's all there!" laughed Wicks.
During an exhibit that starts in September, visitors will be able to see the work up close before the painting permanently returns to the palazzo's ceiling.
They will be able to view a digital image that reveals its various layers while exploring the modern techniques that helped uncover them.
The project's coordinator, Linda Falcone, said it was important to "create a conversation about art by women -- the fact they were protagonists in their time".
Artemisia, she said, was a savvy self-promoter, because with her tribute to Michelangelo, "she's saying, 'I, as a woman, have the inclination to paint!'"
"She puts the heroine at the centre of the canvas, and that heroine has her face."